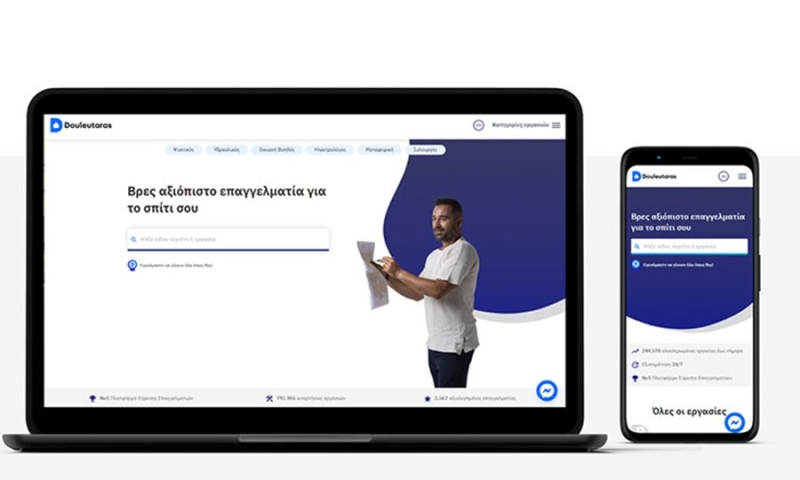 Douleutaras has a dynamic presence in Cyprus, Greece and also in the foreign countries where it operates, with the total value of transactions in 2023 expected to be 70% higher than in 2022. At the same time, the trends in the search for professionals for work at home seem to be oriented towards more time-consuming tasks with plumbing and electrical work as well as renovations occupying the first positions.
In detail, the total transaction value of the first half of 2023 reached €20 million, marking an increase of 56% year-on-year. At the same time, the total value of transactions from the activity outside Greece has reached 35% of the total, i.e. 7 million euros.
The platform, starting its activity from the Greek market, has spread to Cyprus, Ireland and Portugal where Douleutaras has been active since the end of 2021 under the brand name YourPro (Ireland) & YourHero (Portugal).
Strong demand in technical jobs
Douleutaras, the #1 Platform for Finding Home Professionals, works with more than 4,200 rated professionals in Greece and Cyprus offering home services covering all categories and types of work.
Based on the company's data, the top searches for Cyprus are complex technical work such as Plumbing/Electrical work and House Cleaning , while Moving, Carpentry and House Painting follow. The platform's professional partners run over 254 requests daily, with Biological Cleaning and Photovoltaic installation added to the long list of most frequent user searches.
In Greece, top user searches are no different with House Paintingto complement the most in-demand job categories. The volume of requests for technical work received daily by the platform during the first quarter of 2023 has seen a steep increase, exceeding 1,550 requests per day.
The trends prevailing in the rest of the European countries in which Douleutaras operates are also of interest, as well as the platform's preference for completing large-scale technical work. In Ireland, where the platform works with 285 professionals and handles 140 job requests per day, there are high percentages of searches for Electrical/Plumbing, Carpentry, Gardening, Painting and Tiles/Marble.
Also according to user trends, in Portugal, where Douleutaras works with 420 professionals and the platform receives more than 80 requests per day, there is a demand – twice as much compared with 2022 – for home renovation services, while requests for insulation services appear to triple between the first half of 2022 and the corresponding period in 2023. The trend is positive for electrical services, followed by gardening and carpentry with equally high demand.