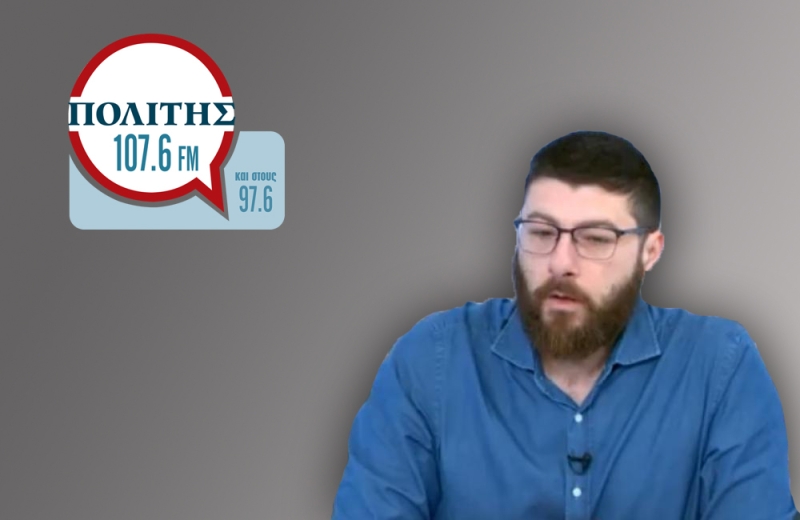 We must be prepared to see the percentage of positive tests for the new coronavirus in Cyprus, increasing, if we decide to reduce the number of diagnostic tests performed daily, said the head of the Scientific Advisory Committee, Dr. Konstantinos Tsioutis. Asked to explain why this has already begun to be observed, Dr. Tsioutis said that, in this case, the people being tested are the ones who have the absolute indication that they are positive, that is, they have symptoms, were contacts, had attended high-risk areas, etc.
Speaking on the show "Morning Inspection" of Politis 107.6 and 97.6, in relation to the thoughts that are made for de-escalation, even removal, of many of the measures against the spread of the pandemic, Dr. Tsioutis said that in his own mind, he would prefer to go slower and more confidently, since Easter is coming, a time of high risk. He stressed that we must look at the data very carefully, adding that now what we are doing is updating the measures. Commenting on the milder disease caused by the Omicron variant, he explained that it is not a milder variant compared to the others, it has about the same weight as the British variant, Alpha. What has changed is that we now have vaccines, medication, that is, many weapons and especially the immunity of the population. There is, however, a portion of the population whose immune systems are not working so well that they will be at risk, he noted.
Long COVID syndrome
Recently, the Federation of Patients' Associations of Cyprus announced the establishment of the group & # 8220; Long Covid Cyprus & # 8221; & # 8220; Long Covid & # 8221 ;, and claiming medical support and research initiatives for & # 8220; Long Covid & # 8221; in Cyprus. Dr. Tsioutis noted that, based on data from abroad, 20-30% of people who have developed symptoms due to COVID-19 will suffer from Long COVID. Even those who are hospitalized with mild symptoms or have had it at home, he added, may suffer from coughing, memory and concentration disorders and fatigue. Now, there are special scales to locate and evaluate them. Those who have had COVID have more severe symptoms, said the head of the Scientific Advisory Committee.
He explained that worldwide, there are clinics and support groups for patients with Long COVID and the creation of the team in Cyprus follows this trend .
Long COVID, he explained, is a syndrome and has not yet been recognized as a disease. It must now be recognized as a medical condition in order to be properly treated. "I would not say that the best care is provided, as there is a lot that we do not know yet," he said, adding that in Cyprus we are still behind.
Regarding the symptoms, Dr. Tsioutis pointed out that they last between six months and one year. Heart problems also occur very often. Other patients also had problems with their lungs, he said