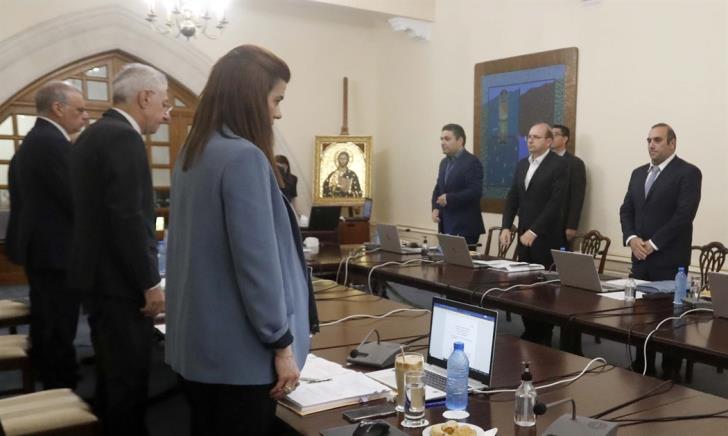 Only good words had to be said about Zeta Aimilianidou by those Ministers who spoke to the journalists on Wednesday morning & nbsp; upon their arrival at the Presidential Palace, for the meeting of the Council of Ministers, the first after the unfortunate loss of the Minister of Labor.
The Minister of Justice and Public Order, Stefi Drakou, described the deceased as an effective and excellent and model woman politician, "a friend but above all a man".
"We are full of emotion and we will remember Zeta with the best thoughts, for the work she performed, for the love of the people who deservedly won and for the exceptional person I met and worked with ", he added.
The Minister of Finance, Konstantinos Petridis, said that he had been a colleague of Zeta Aimilianidou in the Council of Ministers since April 2013 and added that the two had been linked by a friendship.
READ ALSO: & nbsp ;
Three days of mourning and price decisions in Zeta When Zeta spoke everyone listened carefully White flowers and a candle in its place Ζέτας
"She was a very dignified, very capable, selfless and ideological Minister among the few. "Her memory is eternal and unfortunately she left prematurely", he concluded.
The Minister of Agriculture, Rural Development and Environment Costas Kadis stated in his own statements that he is devastated.
"I do not know how he will we enter the room of the Council of Ministers in the absence of our beloved Zeta ", he added, to add that" what is certain is that we will remember her for her humanity, above all, for her dynamism, for her efficiency and her friendship with which she has honored us all these years ". .
"Nevertheless & nbsp; we have to face the reality", added the Ministry of Foreign Affairs, noting that the response of everyone after the announcement of her death "I think acknowledges the ethos, the quality, the value, the importance of this offer. I hope God rests her ".
KYPE