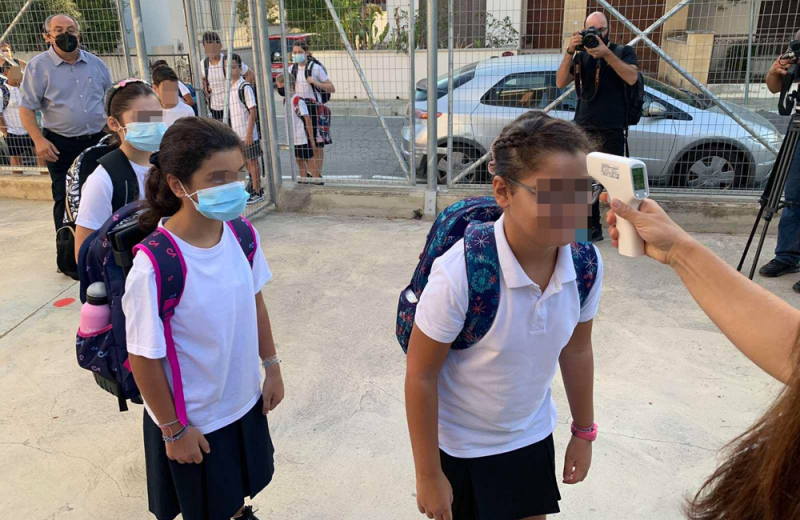 The strong reaction of the educational organizations OELMEK and POED has been caused by the decision of the Council of Ministers for the introduction of the measure "test to stay" in schools. The teachers' organization is protesting because it was not informed of any suggestions that would be submitted to the Council of Ministers, nor was the opinion of the teachers asked. At the same time – this also concerns OELMEK – the concerns are mainly focused on the issue of safety in schools, with the introduction of this measure, as it invalidates, as they say, the protocol that applies to close contacts in society at large. Both educational organizations do not hide their intention to react vigorously against the decisions for the measures in the schools.
OELMEK is meeting
Besides, speaking on the show "Control Panel" of Politis 107.6 and 97.6 and to the colleague, Marilena Evangelou, the vice-president of OELMEK, Themis Polyviou, said that children become experimental animals, while he confirmed that the organization does not rule out taking measures.
Effervescence in the POED as well
The recent decisions of the Council of Ministers have caused concern in the POED as well. The organization of Primary school teachers holds on Saturday, January 15, extraordinary Pancyprian General Assemblies of POED, with a vote among the members of the Organization, to authorize the Board of Directors to take possible reaction measures, not excluded and the strikers, when deemed necessary in relation to the serious problems created by the lack of protection measures taken against the Covid-19 Pandemic, in the school units, as well as the unjustified and unjustified different treatment of the Pre-Primary, Special and Primary Education ", as broadcast by KYPE.
Speaking to politis.com.cy, the president of POED, Myria Vassiliou, the first objection concerns the decision-making for measures and practices in schools, without informing the organization officially, with arguments and the submission of an implementation plan. They are always informed by the media, despite the fact that the decisions of the Council of Ministers will be implemented by teachers.
The second reason why the POED reacts, according to Ms. Vassiliou, concerns the question whether the measure "test to stay" will help to ensure health safety within schools, when it comes to 25 children in a classroom and distances, in many cases not observed. Also, the president of POED wondered how the measure "test to stay" will be implemented in 330 Primary Schools across Cyprus, since the implementation of the measure for conducting a rapid test twice a week, which was announced last week, was not achieved. Finally, he asks for the response of the competent Ministries, regarding the measures that they will set for the safety of the kindergartens, which were called to return from January 7, without other precautionary measures.