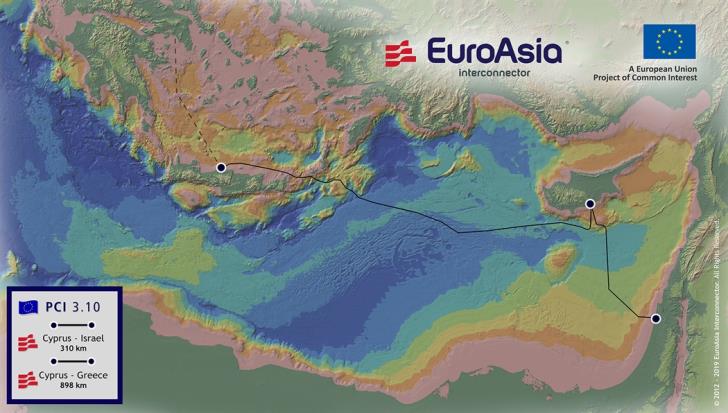 Chrysanthos Manolis
A very important decision, for Cyprus (mainly) and Greece, was taken yesterday by the European Union, approving the allocation of € 657 million for the construction of the cross-border interconnection project of the electricity networks of the two countries, in both directions, ending (if the project implemented) the energy isolation of Cyprus. The approval was made in the context of a grant, with a total amount of € 1.037 billion, of five cross-border projects in the EU, within the Connecting Europe program.
It is worth mentioning that the € 657 million approved for the EuroAsia Interconnector is the largest of the five proposals that will be funded. The Minister of Energy Natasa Pileidou announced the pleasant news through twitter, while today she will speak about the development in a press conference. Ms. Pileidou wrote that the approval of the sponsorship is extremely new, with multiple benefits for Cyprus. Enumerating them, he mentioned the removal of energy isolation (if the project is completed), the provision of energy security, the contribution to the development of competition in the electricity market and the facilitation of the development of new RES projects.
SEE ALSO: Pelidou: Welcomes the € 657 million approval for the EuroAsia Interconnector
However, it should be noted that the EU sponsorship corresponds to about 1/3 of the total cost (for the Cyprus-Crete connection) that will be required for the implementation and operation of the project by the private organization EuroAsia Interconnector. But yesterday's very important decision, taken after a thorough review and approval of the private entity's studies and plans by competent EU bodies, obviously now makes it easier for EuroAsia to secure lending, either from the European Investment Bank or from other financial institutions. . It was preceded by the inclusion of the interconnection in EU Common Interest Projects and the allocation of approximately € 14 million for study funding. In the framework of the Cyprus Recovery Plan, the Cypriot Government intends to provide 100 million euros for this project.