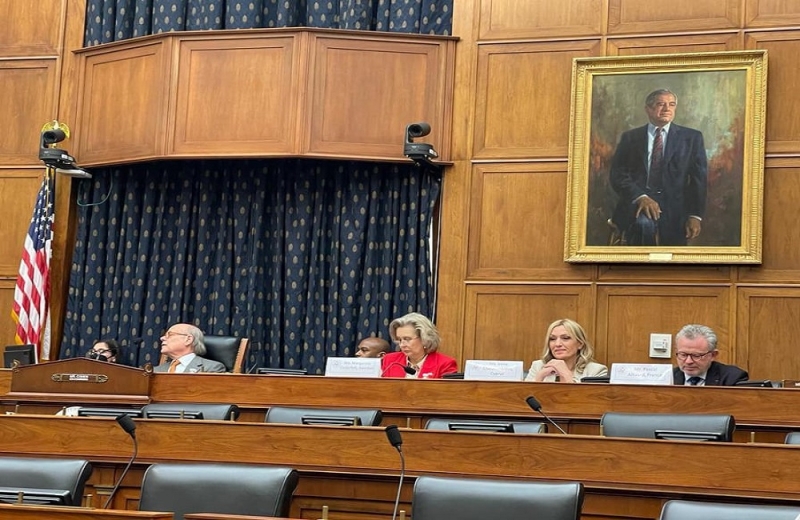 The Vice President of the Parliamentary Assembly of the Organization for Security and Cooperation in Europe, Ms. Irini Charalambidou, referred to the destabilizing role of Turkey in the Mediterranean and its revisionist aspirations, which are constantly fueling the region with tension. for Mediterranean Affairs, organized by the French Embassy in Washington.
Ms. Charalambidou referred to the escalation of military tension in the summer of 2020 and the risk of provoking a hot episode. In this context, he thanked France for its overall balancing role in the Mediterranean and for its assistance in that case. Ms. Charalambidou also denounced Turkey's refusal to implement with Cyprus the Readmission Agreement it has signed with the European Union.
The delegation also had a meeting with the Chairman of the Committee on Security and Cooperation in Europe (Helsinki Committee) of the US Congress Mr. Benjamin Cardin, the Co-Chair Mr. Steve Cohen and the members of the Committee Mr. Joe Wilson, Roger Wicker and Richard Hudson. The meeting discussed the latest developments in the war in Ukraine and the possibilities for further contribution of the OSCE JSC and the National Parliaments to the more effective implementation of sanctions. Ms. Charalambidou warned of the danger of uncontrolled escalation and generalized ignition in case of a positive response to the request of the President of Ukraine for control of its airspace by third countries, while arguing that the OSCE JC should continue to operate as a platform for dialogue without exclusion. Regarding the attitude of Turkey, Ms. Charalambidou pointed out that this country has not complied with the sanctions adopted by the EU as a candidate country, thus giving it the opportunity to reap the benefits to the detriment of the states that have it.
During a working lunch with members of Congress, which was also attended by the Speaker of the US House of Representatives Nancy Pelosi, Ms. Charalambidou stressed the importance of fighting corruption to ensure democratic institutions and processes and referred to the organization of an OSCE JC conference in Cyprus next May on the role of national parliaments in preventing and combating corruption, in which he invited the US delegation to participate.