POWERED BY:
01:27 Monday
28 March 2022 INSIDER • GOAL • IN-CYPRUS • PROPERTY • CYPRUS-IS • CAREER LIKE • GOING OUT • XRYSES SYNTAGES • ACTIVE • PHILGROUP NEWS & nbsp; SOCIETY & nbsp; INSIDER & nbsp; OPINIONS & nbsp; GOING OUT & nbsp; CULTURE & nbsp; SPORTS & nbsp; AUTO & nbsp; GOOD LIFE & nbsp; USEFUL & nbsp; PRINTED EDITION & nbsp;
ARCHIKIEIDISEISPOLITIKITOPIKAPARASKINIOMEDIAELLADAKOSMOSEPISTIMIPERIVALLONTECHNOLOGIASYNENTEFXEISCHRYSES ETAIREIESKOINONIAEIDISEISKYPROS OF CHTHESANAGNOSTI HAVE LOGOEPISTOLESSYNENTEFXEISDIMOFILI IN INTERNETVIDEOSAFIEROMATAADVERTORIALINSIDEREPICHEIRISEISKYPROSBRAND VOICECAPITALFORBESBLOOMBERG OPINIONPROTAGONISTESKAFTI GRAMMICHRYSES ETAIREIESKARIERAAPOPSEISARTHRA IN "F" INTERVENTION IN "F" MESSAGE YOUR SKITSAO WORLD TWITTERGOING OUTTHINGS TO DOCINEMAMOUSIKIESTIATORIABAR/CAFETV ODIGOSTILEORASIPOLITISMOSKYPROSKOSMOSKRITIKESEKDILOSEISPROSOPAATHLITIKAPODOSFAIROMPASKETPARASKINIAELLADADIETHNIALLA SPORAPOPSEISSKITSOVIDEOSAUTONEAPAROUSIASIAPOSTOLESAGONESKALI ZOIFGEIADIATROFIEF ZINASTRACHRYSES SYNTAGESSYNTAGES SEFVIMA VIMACHRISIMAFARMAKEIAGIATROIAERODROMIALIMANIATILEFONAOPAPKAIROSSYNALLAGMALACHEIAAPPSPROSFORESENTYPI EDITION POLITIKITOPIKAPARASKINIOMEDIAELLADAKOSMOSEPISTIMIPERIVALLONTECHNOLOGIASYNENTEFXEISCHRYSES COMPANIES EIDISEISKYPROS OF CHTHESANAGNOSTI HAVE LOGOEPISTOLESSYNENTEFXEISDIMOFILI THE INTERN ETVIDEOSAFIEROMATAADVERTORIAL EPICHEIRISEISKYPROSBRAND VOICECAPITALFORBESBLOOMBERG OPINIONPROTAGONISTESKAFTI GRAMMICHRYSES ETAIREIESKARIERA ARTICLES IN "F" INTERVENTION IN "F" MESSAGE YOUR SKITSAO WORLD OF TWITTER THINGS TO DOCINEMAMOUSIKIESTIATORIABAR/CAFETV ODIGOSTILEORASI KYPROSKOSMOSKRITIKESEKDILOSEISPROSOPA PODOSFAIROMPASKETPARASKINIAELLADADIETHNIALLA SPORAPOPSEISSKITSOVIDEOS NEAPAROUSIASIAPOSTOLESAGONES YGEIADIATROFIEF ZINASTRACHRYSES SYNTAGESSYNTAGES SEFVIMA STEP FARMAKEIAGIATROIAERODROMIALIMANIATILEFONAOPAPKAIROSSYNALLAGMALACHEIAAPPSPROSFORES ENTERPRISES LTD BRAND VOICE CAPITAL FORBES BLOOMBERG OPINION PROTAGONISTS HOT LINE GOLDEN CAREER COMPANIES
EXCLUSIVE COOPERATION
TOGETHER WITH
Powered by
Next Previous E. Eugeniou: "I do not expect a mass exodus of Russian companies" HOME • INSIDER • CYPRUS • E. Eugeniou: "I do not expect a mass exodus of Russian companies"
& nbsp & nbspInsider & nbsp; & nbsp;
Interview with Socrates Joachim/Photos & nbsp; TASPHO
In times of crisis, as is happening now in Russia after the invasion of Ukraine, businessmen want to have a presence in another country, with a safer and more stable environment, emphasizes in an interview with Insider the former CEO of PWC Cyprus and former president of Cyprus-Russia business association Eugenios Eugeniou. Tell us about the exclusion of Russian banks from the swift system, about the possibility of Ukrainian companies moving their headquarters to Cyprus and whether the current situation will affect inflation and the growth rate of the Cypriot economy.
First of all, would you like to explain to us practically what the sanctions against the Russian Central Bank mean and the exclusion of a number of Russian banks from the SWIFT system?
Most importantly, the Russian invasion of Ukraine and the war resulted in human losses and a major humanitarian crisis. At the same time, an "economic war" began. The freezing of assets of the Russian Central Bank by the European Union (EU), the US and other Western countries, aims to significantly reduce the use by the Russian Central Bank of its reserves of $ 630 billion. Russia has begun to strengthen its reserves since 2014, when it annexed Crimea, in order to shield its economy in the event of escalating tensions and sanctions. It is estimated that up to 50% of these reserves are frozen. It is a very strong measure that had as a direct result on Monday 28 February – the first opening of the markets after the imposition of the measure – the exchange rate to fall to 101 rubles against the US dollar and the Russian Central Bank to raise interest rates from 9.5% to 20 %. The closure of SWIFT – a secure international information exchange system between banks in connection with payments – for a number of Russian banks aims to block payments to and from Russia by restricting trade and financial activities with other countries. So far at least (in the first week of March) the fuel trading sector has been left out of sanctions, as Europe continues to buy gas and oil from Russia.
WORLD ECONOMIC DIVISION SYSTEM
How do you think things will turn out in relation to the sanctions?
I believe that until the invasion ends, the sanctions will be intensified and escalated. The sanctions are aimed at isolating Russia economically, commercially and cutting it off from the international financial system. They are already creating problems for the Russian economy, with businesses struggling to cope with and declining living standards, especially those of the middle class accustomed to a Western way of life.
They also put a lot of pressure on the "oligarchs". Aiming to put political pressure on the Russian government. At the same time, they are gradually and steadily weakening the Russian economy. History shows that sanctions take time to take effect. The extent and speed with which they weaken the Russian economy will also depend on whether China, as well as other non-Western countries, expand their economic ties with Russia, replacing the West as trading partners. In addition to the geopolitical realignment, there will be an economic realignment and division of the world economic system into two blocs. In addition, we are already seeing large multinationals leave Russia voluntarily, while in the energy sector Western buyers prefer to buy oil from other countries despite the fact that Russian is available at a lower price. Of course, any sanctions also have an impact on those who impose them. Although the Russian economy accounts for only 2% of the world economy, its importance stems from being the second largest producer of natural gas and the third largest producer of oil in the world.
Size and consequences Impact of sanctions will depend mainly on their duration, but also on the extent and intensity they will ultimately have.
H imposition of sanctions on Russia in the field of professional services?
It is known that a significant number of companies based in Cyprus are of Russian interests, have investments and financing in Russia or are investment management companies with an emphasis on securities of Russian companies. The sanctions imposed will limit their activities. At the same time, a significant number of Russians live and work in Cyprus. The consequences will depend on the duration of the sanctions and on whether they will start to de-escalate or escalate further in the near future. From 2013 until today, the professional services sector has shown significant resilience to successive crises related to the Russian market. Examples: "haircut" of deposits, sanctions from 2014 after the annexation of Crimea, de-offshorization actions of the Russian government, abolition of shell companies, closing of accounts by Cypriot banks, the crisis in 2020 in relation to the revision of the double avoidance agreement taxation and a much stricter regulatory and regulatory framework. The resilience of the sector is due to its orientation to new services, new products and new markets. There has also been a strong emphasis on quality and strict regulation, and Moneyval's positive reports in recent years confirm the progress that has been made. It is extremely important in the environment that has been shaped by sanctions, to continue this course by winning the bet of credibility. The withdrawal of major international accounting firms from the Russian market has its own significance. Despite the difficulties, with the right handling, the sector can absorb the shocks of this crisis, as it did before.
ONLY IF THERE ARE POLITICAL PRESSURES
Is there a danger of seeing Russian companies leave Cyprus?
This question arises whenever there is a crisis in relation to Russia. In recent years, through the successive crises, the number of Russian-owned companies based in Cyprus has gradually decreased. Those that remained, however, substantially strengthened their presence, within the framework of the new regulatory requirements. In times of crisis in their country, as is now the case in Russia, entrepreneurs want to be present in another country with a safer and more stable environment. That is why, although there will be a reduction in their activities due to sanctions, I do not expect there to be an immediate mass exodus of companies, unless there is political pressure in this direction. As a result of the reorganization of the international economic system, which I mentioned earlier, what will happen is that it will become increasingly difficult for Russian-owned companies or companies investing in Russia to operate from a country in the "rival economic camp." In other words, it will be very difficult for Cyprus to balance financially in two boats, a fact that had already begun to be observed even before the current crisis. These are delicate balances, which will ultimately be determined by political developments. That's why we need to be prepared for any eventuality.
Is it possible to see Ukrainian companies relocate to Cyprus?
As I have already said in relation to Russian companies, in times of crisis entrepreneurs want to be present in a safe country so that they can continue to operate. I know that there is interest from a number of Ukrainian companies, mainly in the field of technology, to transfer staff and operate from Cyprus. In the current circumstances, in order for this to happen, an immediate and coordinated response is needed from the country that will host these companies and their staff. I hope as Cyprus we respond according to the circumstances.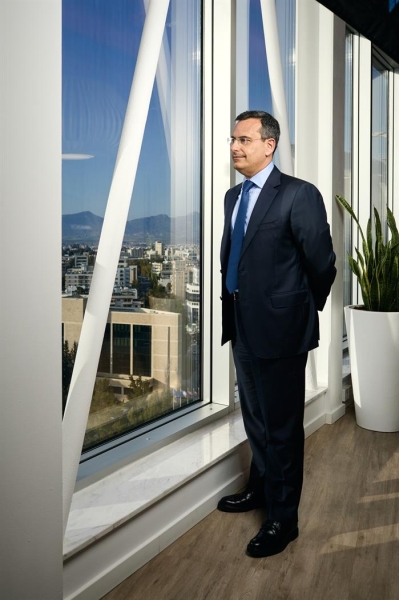 THE WOUND IN TOURISM
However, the tourism sector, at least for this year, will be hit hard. Over time, 20% – 25% of arrivals in Cyprus are from Russia, while a smaller but not negligible percentage came from Ukraine. The effects of sanctions on the Russian economy also significantly reduce the ability of Russians to vacation. The closure of the airspace practically prohibits their arrival in Cyprus.
Again, the duration of the sanctions will be crucial to developments. We will also have to look at the impact on Russian airlines and the country's major tour operators, with whom most hotel companies in Cyprus work. The problem for the tourism industry comes to add to two very difficult years due to the pandemic. I believe that the sector will need new financial support. But, more importantly, we finally need to enter new markets, reduce dependence on a small number of countries, upgrade the quality of tourism and reduce seasonality.
That is, everything included in the new strategy for which must be implemented quickly.
How much do you think the current situation will affect inflation and the growth rate of the Cypriot economy?
Inflation, its impact on development and its social implications are the most important issue that arises for the international, European and Cypriot economies. To deal effectively with this difficult situation will require careful and coordinated action by the European Central Bank on monetary policy and interest rates, and by European governments on fiscal policy. At the same time, companies need to prepare themselves based on specific scenarios and adjust their plans so that they can deal with any eventuality. The supply chain's pandemic problems, fiscal expansion over the past two years, and the loose monetary policy of the last decade have led to significant inflationary pressures.
The price of oil has doubled in the last 15 months, and inflation in February 2022 in the eurozone was 5.8%. Many analysts believed that this phenomenon would be partially reversed by the end of the pandemic. The invasion of Ukraine changes the data. Oil and gas prices have risen even further, with significant increases in wheat, barley and metals. High inflation is slowing growth and will lead central banks to reverse monetary easing and raise interest rates. It all depends on where the energy price goes.
Even the talk of a possible embargo on the oil market has pushed the price of oil to $ 135 a barrel. JP Morgan forecasts prices above $ 150 a barrel if Russian oil supplies to Western markets are cut off for a long time. At such prices the worst, albeit extreme, scenario would be a stagnant inflation phenomenon, i.e. persistent high inflation and zero growth. That's why careful and coordinated handling is needed to deal effectively with the situation but also to prepare businesses for all contingencies.
Today 1/3 of Europe's energy needs are met by Russia.
>
How easy is it to find an alternative based on existing data?
As far as oil is concerned, it is a global market, and I believe that although at an increased cost, there are alternatives. Already, European oil buyers are preferring other countries to buy oil despite lower Russian oil prices. That is why the debate over the energy embargo started with oil. In natural gas things are much more difficult since due to the nature of the fuel, pipelines are needed to transport it. The only solution is liquefied natural gas (LNG). Europe will have to buy at very high prices, LNG destined for other markets, and use up its strategic reserves.
In addition, there will be the problem of the small number of de-liquefaction plants in Europe. Based on relevant analyzes, due to the fact that we are entering Spring, it will be able, despite the significant problems, to provide the natural gas it needs, at least for this year. But at great cost and with a consequent negative impact on the economy and society.
Thus, once again, the issue of the EU's energy and not just self-sufficiency is raised. in the context of globalization. The global financial crisis in 2008 brought the first cracks in this environment. Subsequently, the pandemic showed how a virus can cause serious problems in the supply chain. Today, geopolitical upheavals due to the invasion of Ukraine may have a long-term consequence of an "economic divide". It is now necessary for the EU to make important decisions regarding its energy and economic autonomy.