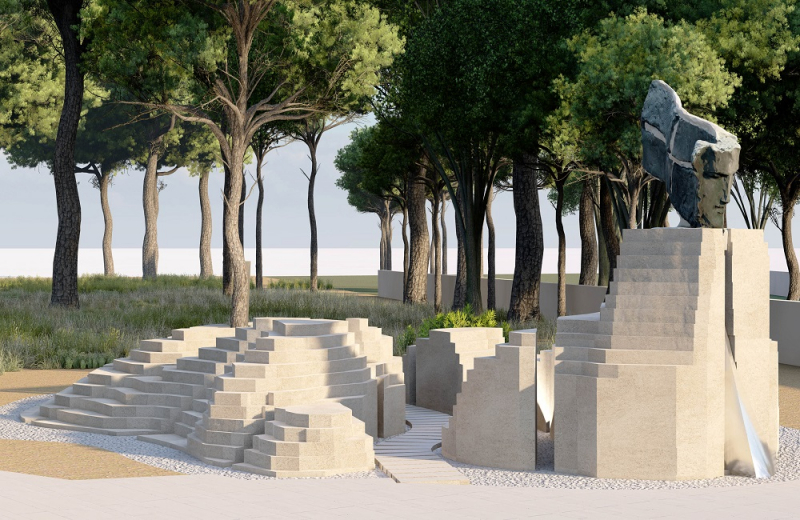 Paphos commemorates the 200th anniversary of the Greek Revolution with a monument that captures the course of the struggle from its beginning to its peak. Its creators, Lamprianos Koutsolambros, Ltd. Architects, Arsenti Lysenkov, sculptor, Katerina Foukara, visual artist and Eugenios Zigas, collaborator describe the work:
In its perpetual course, history oscillates between progress and setback, rise and depression, until death, obsession with the goal and disorientation, until the important moment of the success of the goal that illuminates the road with its triumph. >
1821 is the beginning of the modern Hellenic Republic. It was the time of national awakenings, the first successful national polygenesis, the fruit of the spirit of the American and French revolutions, the sermons of the Enlightenment and the reaction to oppression.
The proposal for the monument follows this path. A solid broken into seasons, moments and people to the climax of triumph. He goes up when the fight starts, he goes down with the wisdom and the failure, he fights hard and becomes a legend through the exit of Messolonghi and the destruction. Civil strife and discord mixed with heroism and triumph. Global mobilization for the final steps of integration. Everything is imprinted on the curves of the stone. The discreet route through the monument is curved so as not to cancel the totality of the shapes with transparent views. A monument accessible, friendly to all, the stepped shape has unexpected uses. Children can climb, rest or hide in the environment that is created. A history lesson and an experience for the visitor. QR codes at defined points help to read the symbols and follow the course, experience for schools, visitors and citizens.
'A tree that is preserved and integrated in the monument gives the message that nature does not we do not sacrifice it even for a national triumph. Made of layers of local stone ten centimeters thick, the same as the neoclassical ones of the center, it creates with its stepped shape the feeling of hills and formations of the Mediterranean landscape. At the same time, it tells the story of the epic of the struggle. Deep ravines divide the landscape into smaller, more readable sections. Each one a moment, a place a man.