The sharp and intense competition between supermarkets led to price cuts on some products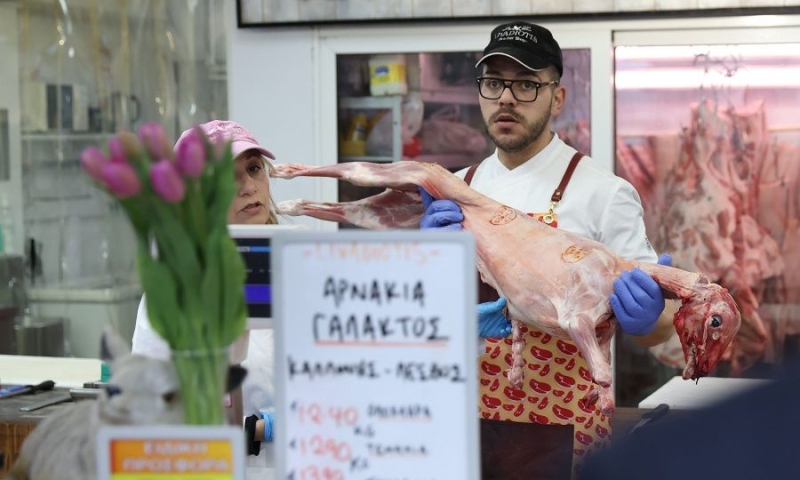 Photo: Philippos Christou
The price of lamb has shot up to 11.5-12 euros per kilo on average this year, while last year it was 8-8.5 euros per kilo on average. At the same time, the price of a second Easter product, flauna, is at a high, namely 18 euros per kilo on average, while last year it was 14 euros.
Marios Antoniou, general secretary of the Pancypriot Retail Trade Association, gave the above information on the DISTRIBUTION NEWS show, stressing that the rise in prices is due to the soaring prices of raw materials and mainly the cost of energy.
He stated that the lately there has been stability in product prices, but unfortunately at high levels. He added that because of the precision in lamb, people are turning to pork that is sold at half the price.
The positive thing, he stressed, is that the sharp and intense competition between supermarkets has brought about a reduction in prices of some products. Mr. Antoniou specifically referred to the special label products of the supermarkets, which are at lower prices and of high quality
At the same time, he characterized the image of the movement in the retail trade as satisfactory, making a reason for the traffic in the hotels last week from foreign tourists, which was redeemed with purchases in the retail trade.
Mr. Antoniou informed the consumers that on Good Friday and Great Saturday the shops will be open until 18.00. They will be closed on Easter Sunday and Holy Monday, to reopen on Tuesday.