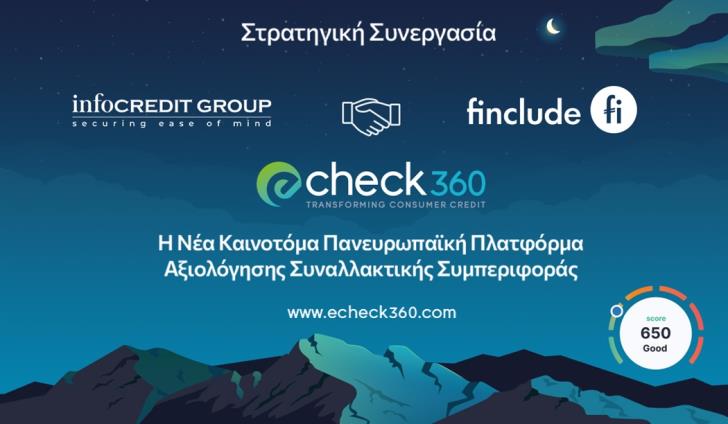 Infocredit Group in collaboration with Finclude presents the eCheck360 platform, which is an innovation of its kind
Infocredit Group, a leading provider of risk management solutions in partnership with Finclude, the pan-European credit rating service provider, fills the gap in access to credit products through the new eCheck360 platform.
Using machine learning and artificial intelligence technologies, the platform helps businesses obtain accurate and valuable information, enabling them to make decisions about their customers' credit requests quickly, promptly and efficiently. It is a pioneering platform, based on the analysis of real-time customer transaction history, setting out for the first time a common Pan-European Credit Score based on transaction behavior.
Solutions offered by the eCheck360 platform include:
Credit Capability: Analysis and evaluation of the client's credit and financial capacity Income Verification: 360 ° view of the client's income, salary and available funds to make better decisions Identity Verification: verification of customer identity (identity, travel document) ) in a few seconds.
Theodoros Kriggou, CEO of Infocredit Group said: "We are very proud of our new eCheck360 platform, which transforms consumer credit at European level! The platform, fully harmonized with the GDPR and PSD2 requirements, enables companies to offer the best digital experience to their customers, with services / products that match their credit profile and more ".
Ioanna Stanegloudi, Co-Founder & Chief Risk Officer of Finclude adds: "Our cooperation with Infocredit Group demonstrates the pan-European character of our services. "Through this partnership, we ensure that all consumers in the markets targeted by Infocredit will enjoy the future of open banking services."
The collaboration between Infocredit Group and Finclude, is another "milestone" in strengthening companies with innovative scientific and technological tools!
If your company offers credit facilities in any way, contact us for a presentation of the eCheck360 platform at +357 22398000, email: info@echeck360.com or visit the website www.echeck360.com.
The eCheck 360 platform was created by Infocredit Group with the support of Finclude .