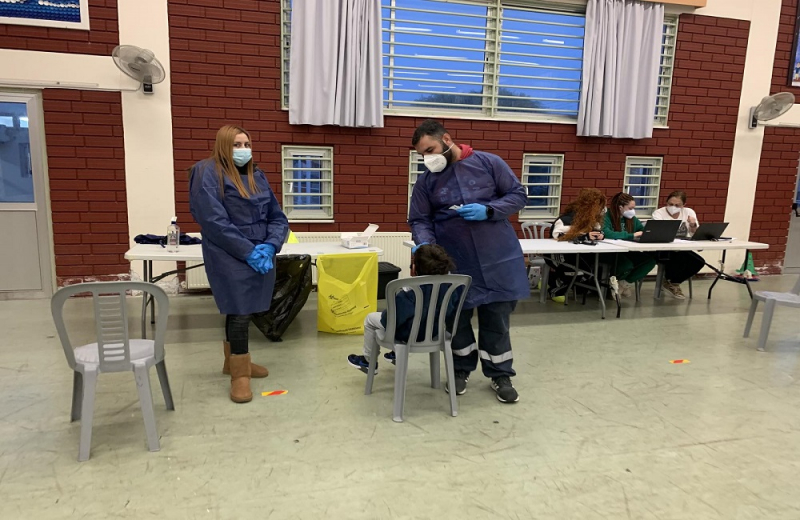 The Pancyprian Confederation of Associations of Parents of Primary Schools, held a meeting with the Ministers of Education, Culture, Sports and Youth and Health, the epidemiologist Dr. Konstantinos Tsiotis as well as the Organized Parents of Secondary Education and the Trade Unions of all levels, today, January 31, 2022, at the Ministry of Finance, for discussion, information and feedback on the "test to stay" measure.
Ms. Karolina Stylianou, of the Ministry of Health, clarified to the attendees that, from tomorrow, there will be a mobile unit in all the schools of the cities where the examination will take place. As for the rural schools and schools in isolated areas, they will continue with the plan of grouping until units are found for all schools.
Dr. Tsioutis pointed out to everyone that, with the implementation of this measure, around 65% of the children who were in close contact, were not deprived of lifelong learning.
The Organized Parents of Primary Education, discussed and brought to the attention of the Ministers and the Epidemiologist, that it is necessary to define the number of cases that will signal the closure of a department. At the same time, they pointed out the insufficient staffing of the crews (1 person for each crew) where it creates a delay. Many schools do not have closed rooms to carry out the measure so solutions need to be found. The question was whether teachers should be included in this measure in order to increase the quality of the educational process.
Regarding the countryside and mountainous remote areas, they will continue to implement the grouping measure in the school units and because people from other schools will enter, the parents expressed serious concerns for safety and health issues. For the specific units that will continue to operate with this system, the issue of valid and correct communication with the Parents was raised.
Finally, the Parents suggested that the Ministry allow them to accompany the children to the school for the examination. Also, the existing Units that perform rapit test to have the ability to apply the test to stay measure for the convenience of all.
On this occasion, we thank those in charge for the opportunity they gave us to highlight the problems we face and to submit our suggestions, so that the issues addressed in the last week can be smoothed out. The purpose of all is the smooth operation of our schools so that our children receive quality, equal and equal education.