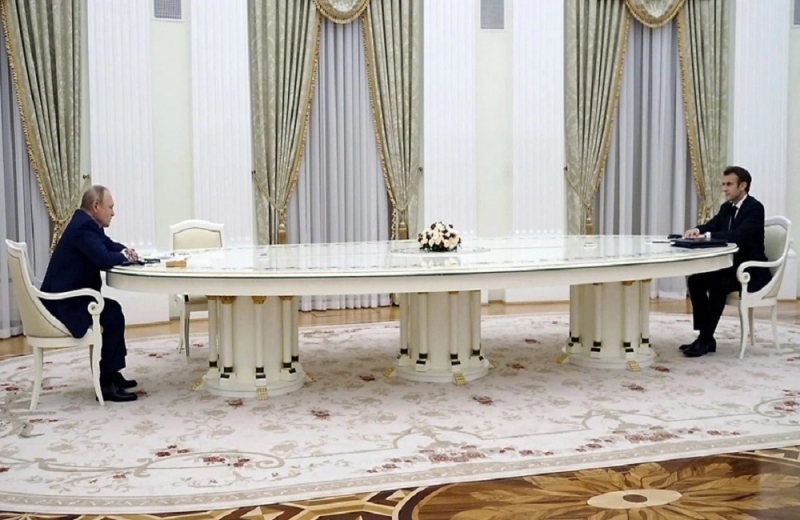 Another explanation for the "ice rink" table where Vladimir Putin and Emanuel Macron sat down for talks was given by two sources from the Elysee, explaining that the four meters that separated them was due to the French president's refusal to undergo a Russian PCR test.
In recent days, the huge table had provoked multiple comments on social media, with observers and diplomats speculating that Putin may have wanted to send a message to the West.
Eventually, according to sources close to Macron, the French president had two choices from the Kremlin. The first is for the Russian authorities to accept a PCR test for him, or the second is for him to follow much stricter rules of social distancing. The French side thought it would be a way to secure access to Macron's DNA.
" We knew very well that this meant no handshakes and (to sit) at a long table. " But we could not accept access to the president's DNA ," a source told Reuters, referring to security concerns if the French president was tested by Russian doctors.
A Kremlin spokesman has not yet responded to a Reuters message for comment.
Macron did two tests before the meeting
A second source close to the French leader confirmed that Macron had refused to undergo a Russian PCR test. The source said that instead Emanuel Macron underwent a French PCR test before his departure and an antigen test was performed by his own doctor as soon as he arrived in Russia.
" The Russians told us that Putin must remain in a strict health bubble ," the second source explained.
Today, three days after the Macron-Putin meeting, the Russian leader received the President of Kazakhstan Kasim-Jomart Tokayev. The two men exchanged handshakes and sat next to each other, separated by a small table.