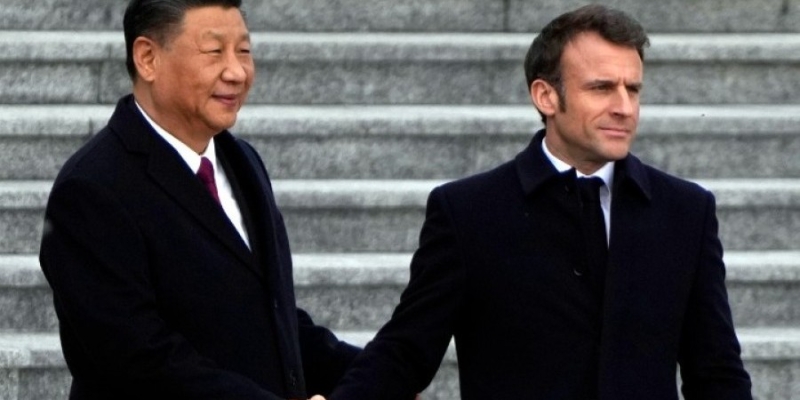 French President Emmanuel Macron has told Chinese President Xi Jinping that he is counting on him "to bring Russia back to its senses". and for the return of all sides to the negotiating table during their four-on-four meeting in Beijing, where the French president is making an official visit.
"I know I can count on you for "Russia's return to reason and all sides at the negotiating table," Emmanuel Macron told Xi. "The Russian attack on Ukraine has dealt a blow to international stability," the French president said. /p>
The Chinese president hailed China's relations with France in a world undergoing "profound historical change". "The world today is experiencing profound historical change", Xi said, stressing that relations between Paris and Beijing have nevertheless experienced "a positive and smooth development".
The two leaders will give a joint interview. press conference at 12.30 Greek time and will be followed by a tripartite meeting with the participation of the President of the European Commission, Ursula von der Leyen.
The aim of the two European leaders is to make their voices heard by Xi, a close ally of Moscow, to whom they reserve a role in the peace process in Ukraine.
Emmanuel Macron previously met with Chinese Premier Li Chiang with whom discussed the issue of the war in Ukraine, according to the French presidency. The French president stressed "the importance of the dialogue between China and France in these troubled times we are going through".
He then met with the chairman of the Chinese National Assembly Zhao Leji to whom he pointed out "the implications of the war in Ukraine on the global security of strategic balances".
For her part, Ursula von der Leyen was welcomed by Li Chiang to whom she emphasized "that the relations between the European Union and China have become complicated in recent years and it is important to jointly discuss all aspects of this relationship today, especially in this volatile geopolitical environment.
Source: APE-MPE