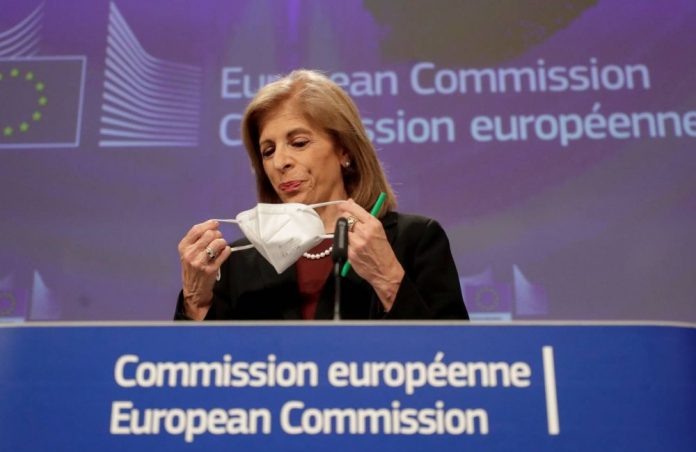 European Commissioner in charge of Health Stella Kyriakides gives press conference on AstraZeneca vaccines at EU headquarters in Brussels, Belgium, 27 January 2021. EU is urging pharmaceutical company AstraZeneca to publish their vaccine contract, amid an escalating row over delivery shortfalls
The AstraZeneca-Commission dispute has finally come to an end, as the two sides have reached an agreement that will ensure the delivery of the remaining doses of COVID-19 vaccines to the Member States under the terms of the Preliminary Purchase Agreement concluded on 27 August 2020 with AstraZeneca, announced on Friday, Commissioner Stella Kyriakidou.
The agreement will also close pending legal proceedings before the Brussels Court.
The settlement reached by both parties provides for AstraZeneca's firm commitment to deliver, in addition to the approximately 100 million installments delivered by the end of the 2nd quarter, 135 million installments by the end of 2021 (60 million installments by the end of the 3rd quarter and 75 million installments by the end of the 4th quarter) and the remaining installments (65 million) by the end of March 2022.
According to this schedule, the total number of installments will reach 300 million installments, as agreed under the contract.
According to the Commission communication, Member States will receive regular delivery schedules and limited discounts will apply in the event of a delayed installment.
In a statement, Ms. Kyriakidou said that "today's settlement agreement guarantees the delivery of the remaining 200 million doses of COVID-19 vaccine from AstraZeneca to the EU."
He noted that "the continued availability of vaccines, including AstraZeneca, remains crucial" as despite the fact that the EU has reached the important milestone of 70% of full vaccination of the EU adult population "there are significant differences in vaccination rates between our Member States" .
"As the strongest advocate for global vaccine cooperation and solidarity, we will continue to help the rest of the world. Our goal is to distribute at least 200 million doses of vaccine through COVAX to low- and middle-income countries by the end of this year. "Solidarity for vaccines is and remains our trademark," she added.
source: CITIZEN
RUN and POWER Group: Enhanced Living Experience.