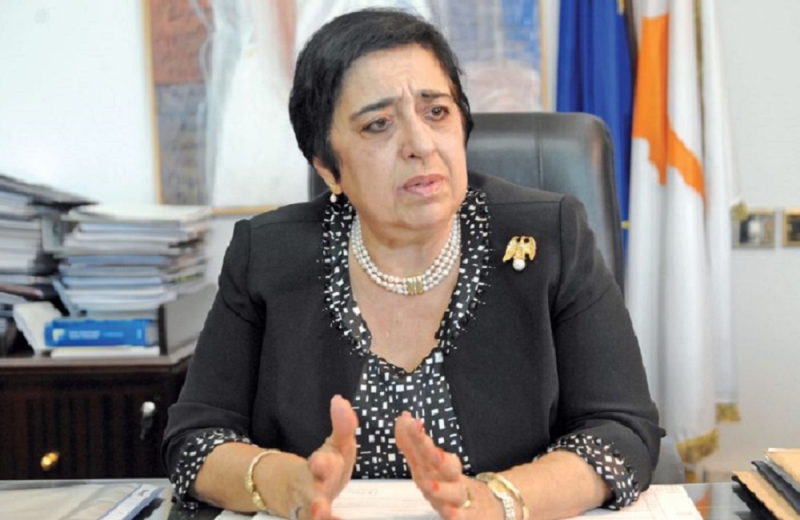 "We are in the worst situation we have ever been in in the Cyprus issue" Erato Kozakou Markoulis, former foreign minister and former member of the negotiating team, said to Politis 107.6 & 97.6, simultaneously criticizing the President of the Republic, Nicos Anastasiades, for inaction in the Cyprus issue after the Cran Montanas.
Ms. Markoullis explained that "for the last five years, unfortunately, we have done nothing or our actions have been in the exact opposite direction." Regarding her Facebook post about Crans Montana (we were one breath away from the solution [..] we're about to cry), and why it all blew up, she said that some people need to put their hands on their hearts and tell the truth. "Only the PtD and the former negotiator were at the infamous dinner. I have read the minutes carefully, which were published for the July 6 dinner, and I see a tragedy in it, because we came very close, but we consented – criminal action of the President – to close this meeting – Mr. Guterres repeated how close we came," he added.
Regarding the statement of the former negotiator and current candidate for the PtD, Andreas Mavroyiannis, that we had to insist on the dinner, the former Foreign Minister described it as "self-critical in retrospect" and questioned the advice she was giving to President Anastasiades. She also said that she never realized that the final meeting would take place in Crans Montana. "Before we went to Crans Montana, no one told us that it was the final meeting," he said characteristically.
Regarding whether our goal was ultimately "zero army and zero guarantees", Ms. Markoulis explained that based on the practices as well, "our long-standing position is that we want the abolition of guarantees and the abolition of invasive rights, especially the military invasive right, and the withdrawal of the occupying troops will take place gradually." Especially about the gradual, he said he doesn't know exactly what was said at the dinner. Regarding the military actions, it was agreed that there would be a development after a meeting at the highest level, that is, between prime ministers, which it seems we did not accept, as he said. He also emphatically reiterated that "we really made no effort during this dinner to keep the process alive. For some, the frame was anathema."
Finally, answering a listener's question about who she will support in the upcoming presidential elections, Ms. Markoulis said that she had not decided, however she ruled out the possibility of supporting one of Christodoulidis, Mavroyiannis and Neophytos, because all three – like herself he argued – "they are jointly responsible for the situation that the Cyprus crisis has reached and they supported the actions of the President of the Republic". In fact, he described it as a crime that "the PtD agreed at the end of the dinner and did not raise a foot to give the opportunity to continue the conference". broadcast by Politis 107.6 & 97.6:
]