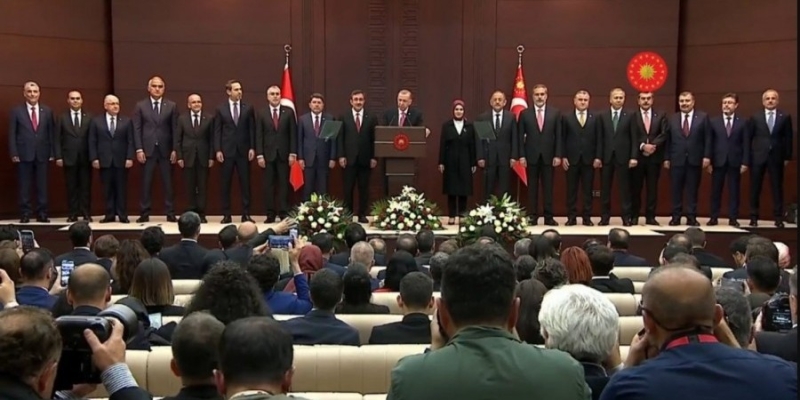 Late Saturday night 6/3/2023, the President of Turkey, Recep Tayyip Erdogan, announced the new composition of his Government and Council of Ministers. Among the remarkable things is the fact that Cavusoglu (former Foreign Minister), Hulusi Akar (Former Ministry of Foreign Affairs) and Soylou (Former Ministry of Internal Affairs) are outside the Government. Hagan Fidan, former head of the Secret Services of Turkey, takes over the position of Minister of Foreign Affairs. It is worth noting that only two of the former ministers participate in the new cabinet. Essentially, the ministers of Health and Culture did not change. Here is the detailed list as posted by a CNN Turk reporter:
Hayırlı olsun…Yeni Bakanlar Kurulu . Mahinur Özdemir Göktaş

Çalışma ve Sosyal Güvenlik Bakanlığı
Vedat Işıkhan

Çevre, Şehircilik ve İklim Değişikliği Bakanlığı
Mehmet…

— cüneyt özdemir (@cuneytozdemir) June 3, 2023
Vice President Cevdet Yilmaz Ministry of Justice Yilmaz Tunc Yilmaz Tunc Ministry of Family and Social Services Mahinur Ozdemir Goktas Ministry of Labor and Social Security Vedat Işıkhan Ministry of Environment, Urbanization and Climate Change Mehmet Ozaseki Ministry of Foreign Affairs Hakan Fidan (former head of MIT) Ministry of Energy and Natural Resources Alparslan Bayraktar Ministry of Youth and Sports Osman Askin Look Ministry of Finance and Finance Mehmet Simsek Ministry of Interior Ali Gerlikaya Ministry of Culture and Tourism Mehmet Nuri Ersoy Ministry of Education Yusuf Tekin Department of National Defense Yasar Guler Ministry of Health Fahrettin Koca Fahrettin Koca Ministry of Industry and Technology Mehmet Fatih Katsir Ministry of Agriculture and Forestry Ibrahim Yumakli Ministry of Commerce Omer Bolat Ministry of Transport and Infrastructure Abdulkadir Uraoglu
President Erdoğan's new cabinet #Turkey @hakana @bbicer pic.twitter.com/BvArBvqGtA

— Strategic Advisory Services (@SAS_Corporate) June 3, 2023
Also read: Erdogan: The "Century of Turkey" has begun.