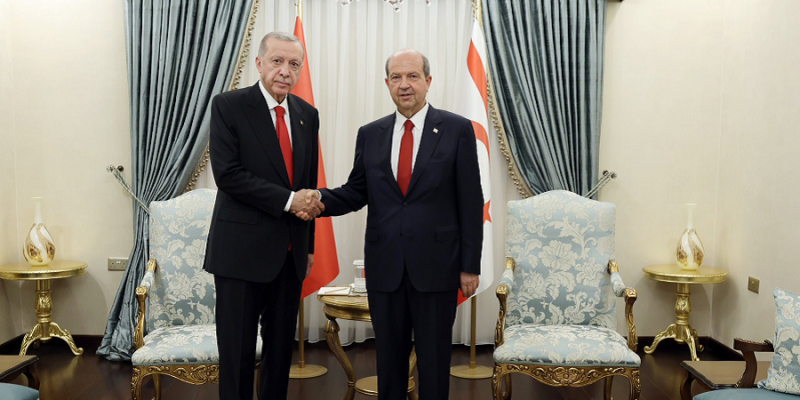 "We hope, in our new era, to fulfill our responsibilities towards our Turkish Cypriot brothers with the vision of the Century of Turkey", Turkish President Recep Tayyip Erdogan said from the occupied territories.
According to Turkish Cypriot News Agency, Erdogan laid a wreath at the Atatürk monument and signed the memorial book. According to reports, citizens waited for hours to see Erdogan and greeted him with slogans.
It is noted that, during his visit, Erdogan will have contacts with the Turkish Cypriot leader Ersin Tatar and the so-called "prime minister" Unal Usel. It is also expected to discuss the method of recognizing the pseudo-state, the two-state solution on the island, the recent situation in Varosia and the developments in the eastern Mediterranean.
Erdogan is accompanied by the Minister of Foreign Affairs, the Minister of Energy, the Minister of National of Defence, Minister of Transport as well as the Director of Communications, the Head of the Intelligence Service, the Chairman of the Defense Industry and the Spokesperson for the AKP.
TC President Recep Tayyip Erdoğan, Lefkoşa Atatürk Anıtı'na çelenk koyarak, Anıt Özel Defteri'ni imzaladı.Erdoğan deftere, "İnşallah yeni dönemizde de Türkiye Yüzyılı visionuyla Kıbrıs Türk'ü kardeşlerizize kırşı sılışılarızım yırın getiriceğiz" not etti pic.twitter.com/GiKPWPZob4

— Türk Ajansı Kıbrıs (TAK) (@TAKAjansi) June 12, 2023