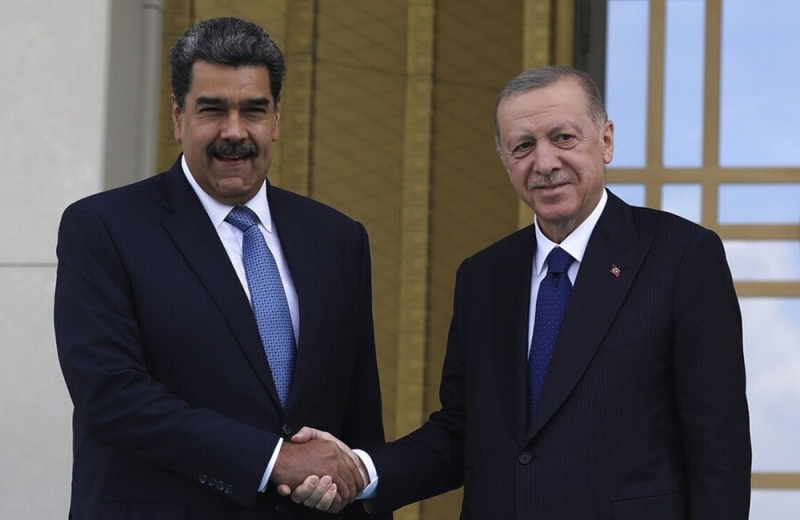 Turkish President Recep Tayyip Erdogan launched a new attack on Greek Prime Minister Kyriakos Mitsotakis on Wednesday during a meeting with his President Venezuela , Nicolas Maduro
During the joint statements made by the two presidents, Mr. Erdogan referred to the meeting he had with Kyriakos Mitsotakis in Istanbul.
"We talked but look what happened next. He did the same in Davos. (…) He laughed at us in Istanbul and then insulted us. Davos did the same. "At the dinner with Mitsotakis, even though we said we would not leave third parties, as if we did not have this meeting, he went and made statements in America", the Turkish president said characteristically.
At the same time, he turned his arrows on Athens, regarding the reintegration of Greece into NATO.
"We supported the re-accession of France and Greece to NATO. And the US gave permission to establish bases against us, 9 bases. Against whom are they (s.s. the bases)? They say it is against Russia, we do not eat it. Greece owes to the EU and yet they give weapons, I will not say names. "Against whom are they giving it to her?" Erdogan asked.
Dendias: Turkey to act and express itself accordingly if it looks forward to a European course
At the same time, Greek Foreign Minister Nikos Dendias. called on Turkey to refrain from strong expressions and provocative statements and to ensure that there is calm and that bilateral relations always move within the framework of international law, international law of the sea and respect for the territorial integrity of countries. >
In a statement from Pristina, when asked about the barrage of provocative statements by Turkish officials and his Turkish counterpart, Nikos Dendias said characteristically that strong expressions, provocative statements do not help. "What the Turkish side should do is to refrain from such events. "To ensure that there is peace and that our relations always move within the framework of International Law, International Law of the Sea and respect for the territorial integrity of our countries," he said.
At the same time, Nikos Dendias pointed out that he always has the impression that a large part of Turkish society is looking forward to a European course for Turkey and expressed the hope that the Turkish government will share this desire of Turkish society and will act and express accordingly. Regarding his contacts in Pristina, the Foreign Minister said that this is a very interesting visit, during which he had and will have the opportunity to discuss issues of energy interconnection, but also the future of stability. in the Western Balkans.
In this context, he made it clear that for the Greek government, the main stake is always peace, stability and the European course.
It is noted that the visit in Pristina is part of Nikos Dendias's visits to the Western Balkans in the run-up to the South East European Cooperation Process (SEECP) Summit in Thessaloniki.