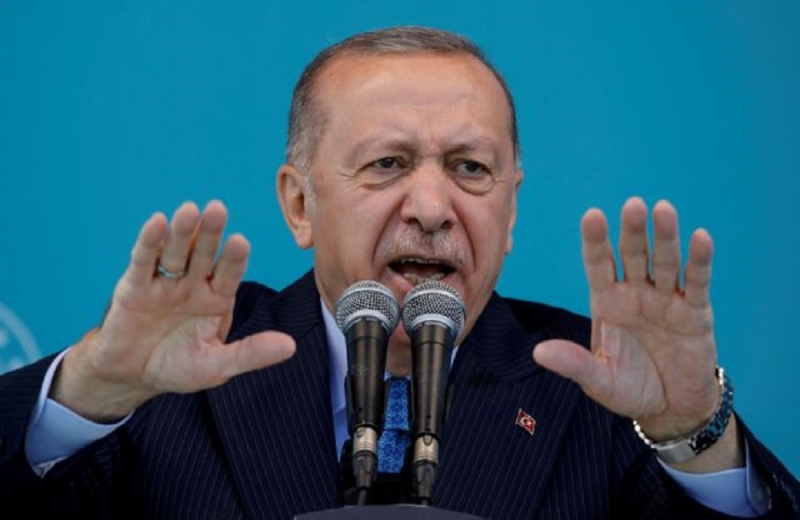 Implicating Greece again, he said that "starting with our neighbors, many European countries have protected the abominations of FETO".
Speaking at the launch of the Hızırreis submarine at the Golcuk shipyard in Istanbul, the Turkish president said that its technical features were impressive and that it could remain underwater for 3 days and 12 weeks at sea without refueling. As he said, the Hızırreis will be put into operation in 2023, while the submarine Selmanreis will be put into operation in 2027. He also stated that from this year a submarine will be put into service and that by 2027 the Turkish navy will has 6 new types of submarines.
According to Tayyip Erdogan, the preparations for the national construction of the country's submarine are continuing at full speed. He said that its construction starts in 2025 and they plan to deliver it to the Turkish navy within 5-6 years.
The Turkish President said "we have implemented many projects that will make our navy stronger and more deterrent to the security of the Blue Homeland".
Tayyip Erdogan said that "despite the betrayal of the countries we considered friendly countries and the games of the allies, we achieved this. " "We have never forgotten the unjust sanctions imposed on our country due to the peace operation in Cyprus," he said.
Launching an attack on the West, the Turkish President said that "the weapons, which were not given to us for a fee, were transported free of charge by tens of thousands of trucks to the bloodthirsty terrorist organizations." Greece, Tayyip Erdogan also claimed that "starting with our neighbors, many European countries protected the vices of FETO who had targeted our democracy on the night of July 15." He added that "terrorist leaders in Syria have been greeted with red carpets." The Turkish president said "we can not ignore the sanctions against us, especially by Sweden". "There is no logical explanation for this," he said, adding that Turkey's fair expectations for support in the fight against terrorism and sanctions should be met.
"Our bad neighbor made us the owner of a defense industry", said the Turkish President, implying again Greece and Cyprus.
Source: KYPE