Some facts concerning the new acquisition of AEK and worth mentioning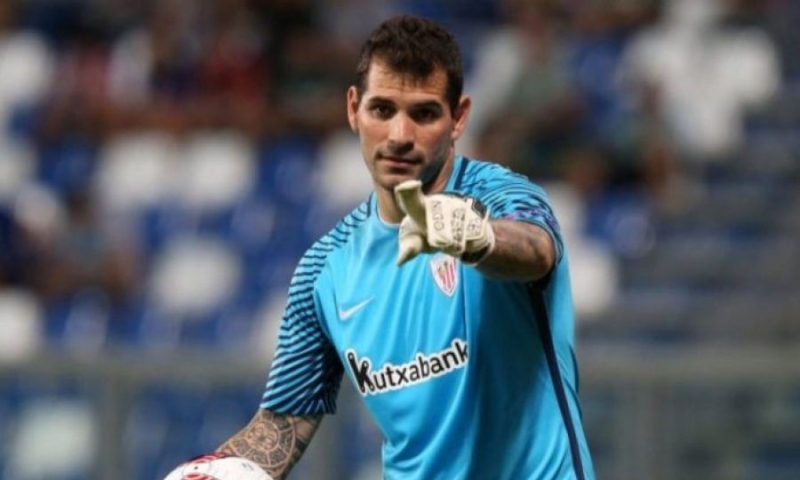 AEK has reached an agreement in principle with Iago Ererin for 1+1 years, adding an experienced goalkeeper to its roster. At over 35 years old, the Basque goalkeeper has, among other things, 77 appearances in La Liga and while he has important performances in the final phase of the Europa League.
However, it is also worth mentioning that even though we are talking about a goalkeeper, Ererin has scored a goal and an assist! The goal was recorded in the minor divisions of Spain, when he was playing for the second team of Atletico Madrid. Specifically, in a match that took place on January 8, 2011 against Getafe B', the new acquisition of the "yellow-green" gave the victory (3-2) to his team with a goal in the 74th minute.
Now about the assist, it was scored on January 7, 2019 (almost… eight years after the goal!), in an away game against Telta Vigo, for the Spanish league. Playing at Athletic Bilbao at the time, and while the score was 1-1, he found Inaki Williams with a pass from his area, who made an exemplary run, ran a few meters with the ball at his feet, to make the final 2-1 with a spot-kick! Saudi Arabia)… in the past he was connected, among others, to teams from England, Turkey, and Greece. In the summer of 2021, he played in the report of AEK, while a year earlier Greek publications wanted him as a candidate target for Pedro Martins at Olympiakos. As was typically mentioned, the "red and whites" had Fabiano from Omonia as their first choice, with Ererin following on the relevant list!
Ultimately, neither of them moved to Athens, as fate has it that they are rivals in Cypriot football in the new season.