POWERED BY:
10:26 Πέμπτη
31 March 2022 INSIDER • GOAL • IN-CYPRUS • PROPERTY • CYPRUS-IS • CAREER LIKE • GOING OUT • XRYSES SYNTAGES • ACTIVE • PHILGROUP NEWS & nbsp; SOCIETY & nbsp; INSIDER & nbsp; OPINIONS & nbsp; GOING OUT & nbsp; CULTURE & nbsp; SPORTS & nbsp; AUTO & nbsp; GOOD LIFE & nbsp; USEFUL & nbsp; PRINTED EDITION & nbsp;
< i class = "line5">
ARCHIKIEIDISEISPOLITIKITOPIKAPARASKINIOMEDIAELLADAKOSMOSEPISTIMIPERIVALLONTECHNOLOGIASYNENTEFXEISCHRYSES ETAIREIESKOINONIAEIDISEISKYPROS OF CHTHESANAGNOSTI HAVE LOGOEPISTOLESSYNENTEFXEISDIMOFILI IN INTERNETVIDEOSAFIEROMATAADVERTORIALINSIDEREPICHEIRISEISKYPROSBRAND VOICECAPITALFORBESBLOOMBERG OPINIONPROTAGONISTESKAFTI GRAMMICHRYSES ETAIREIESKARIERAAPOPSEISARTHRA IN "F" INTERVENTION IN "F" MESSAGE YOUR SKITSAO WORLD TWITTERGOING OUTTHINGS TO DOCINEMAMOUSIKIESTIATORIABAR/CAFETV ODIGOSTILEORASIPOLITISMOSKYPROSKOSMOSKRITIKESEKDILOSEISPROSOPAATHLITIKAPODOSFAIROMPASKETPARASKINIAELLADADIETHNIALLA SPORAPOPSEISSKITSOVIDEOSAUTONEAPAROUSIASIAPOSTOLESAGONESKALI ZOIFGEIADIATROFIEF ZINASTRACHRYSES SYNTAGESSYNTAGES SEFVIMA VIMACHRISIMAFARMAKEIAGIATROIAERODROMIALIMANIATILEFONAOPAPKAIROSSYNALLAGMALACHEIAAPPSPROSFORESENTYPI EDITION POLITIKITOPIKAPARASKINIOMEDIAELLADAKOSMOSEPISTIMIPERIVALLONTECHNOLOGIASYNENTEFXEISCHRYSES COMPANIES EIDISEISKYPROS OF CHTHESANAGNOSTI HAVE LOGOEPISTOLESSYNENTEFXEISDIMOFILI THE INTERN ETVIDEOSAFIEROMATAADVERTORIAL EPICHEIRISEISKYPROSBRAND VOICECAPITALFORBESBLOOMBERG OPINIONPROTAGONISTESKAFTI GRAMMICHRYSES ETAIREIESKARIERA ARTICLES IN "F" INTERVENTION IN "F" MESSAGE YOUR SKITSAO WORLD OF TWITTER THINGS TO DOCINEMAMOUSIKIESTIATORIABAR/CAFETV ODIGOSTILEORASI KYPROSKOSMOSKRITIKESEKDILOSEISPROSOPA PODOSFAIROMPASKETPARASKINIAELLADADIETHNIALLA SPORAPOPSEISSKITSOVIDEOS NEAPAROUSIASIAPOSTOLESAGONES YGEIADIATROFIEF ZINASTRACHRYSES SYNTAGESSYNTAGES SEFVIMA STEP FARMAKEIAGIATROIAERODROMIALIMANIATILEFONAOPAPKAIROSSYNALLAGMALACHEIAAPPSPROSFORES ENTERPRISES LTD BRAND VOICE CAPITAL FORBES BLOOMBERG OPINION PROTAGONISTS HOT LINE GOLDEN CAREER COMPANIES
EXCLUSIVE ASSOCIATION
TOGETHER
Powered by
Next Previous ETAP: Free tours and guided tours in the old town of Paphos every Thursday HOME • INSIDER • CYPRUS • ETAP: Free tours and guided tours in the old town of Paphos …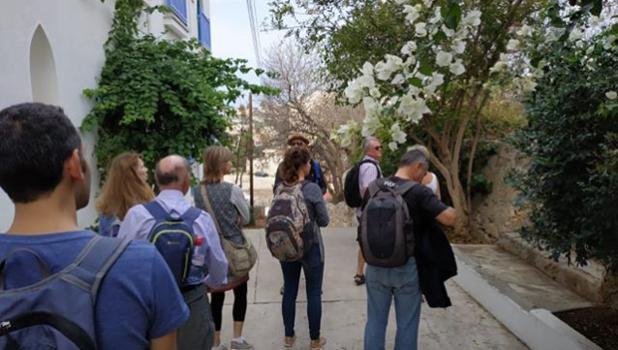 & nbsp & nbspNtora Christodoulou & nbsp; & nbsp;
In the context of enriching the tourist experience of visitors in non-peak periods, the Tourism Development Company & nbsp; and Promotion of Paphos Region with the support of the Ministry of Tourism continue the free tour and tour & nbsp; in Paphos Old Town.
The & nbsp; tour & nbsp; "Meet the locals" is operated by a licensed tour guide and & nbsp; includes exploring the area around the center of Paphos, the neoclassical buildings, the renovated squares, the shopping center, & nbsp; the fruit market and & nbsp; many other points of interest. The main goal of the effort is besides the enrichment of the tourist experience, & nbsp; to make even more known the Old Town and the lesser known parts of the center as well as & nbsp; and the projects and infrastructure created by the Cultural journey & nbsp; Capital & nbsp; of Europe in 2017 until today.
The walk starts from the "Agora" bus stop every Thursday at 9.30am & nbsp; and participants & nbsp; through the approximately 2.5 hour tour & nbsp; enjoy & nbsp; a wide range of experiences. Through the narrow streets and the now upgraded neighborhoods, squares and pedestrian streets, the walk ends & nbsp; at the Tourist Information Office on Makariou Street in the Old Town where the participants now have time for further tour, shopping or rest.
This tour takes place for the months of March and April. Reservations and information provided by the office & nbsp; of ETAP and the Information Office of the Paphos Ministry of Tourism at the phones: 26811500, 26932841 or email & nbsp; & nbsp; info @ visitpafos.org.cy, & nbsp; & nbsp; www.visitpafos.org.cy & nbsp; and & nbsp; FB Paphos region & nbsp; & nbsp; & nbsp;