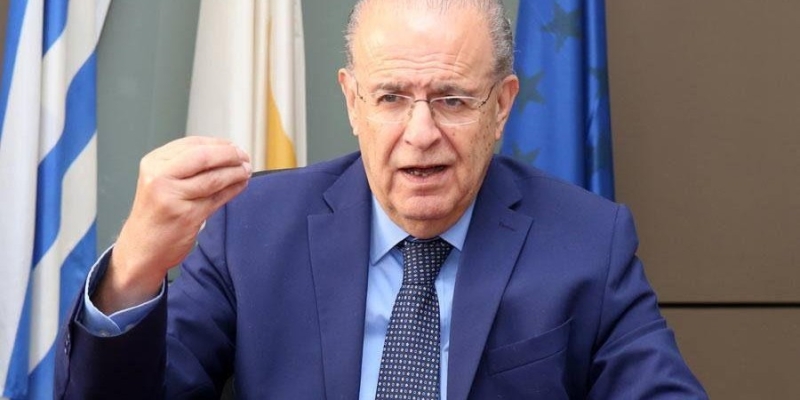 The Turkish Cypriot citizens of the Republic of Cyprus who were killed in the deadly earthquakes in Turkey, the initiative of Cyprus to send a rescue team to Turkey, and the provision of humanitarian aid to Syria and Turkey through the EU Civil Protection Mechanism were mentioned by Foreign Minister Ioannis Kasoulidis in his intervention in the discussion on the situation in the areas affected by the devastating earthquakes, during the Foreign Affairs Council (FAC), held in Brussels.
As noted in a statement by the Ministry of Foreign Affairs, at the beginning of the Council a minute's silence was observed for the victims of the earthquake in Turkey and Syria.
In his intervention, Mr. Kasoulidis noted that a number of Turkish Cypriots have lost their lives in the hotel wreckage in Turkey. He also referred to the initiatives to support the Republic of Cyprus by sending a rescue team to Turkey to support rescue crews, as well as the provision of large-scale humanitarian aid to Syria and Turkey through the European Civil Protection Mechanism.
According to the announcement, High Representative Josep Borrell "expressed his condolences for the loss of our compatriots, at the same time highlighting the contribution and contribution of the Republic of Cyprus".
The main issues that occupied the Foreign Ministers were the developments in Ukraine as well as the working lunch with their Moldovan counterpart and Deputy Prime Minister Nikos Popescu, a discussion on the developments in Afghanistan as well as the EU policies in the fields of climate and energy diplomacy.< /p>
Speaking during the debate on Ukraine, Mr. Kasoulidis highlighted the importance of maintaining the unity of the EU and supporting the government and people of Ukraine, underlining that the approach of Cyprus is based on basic principles of law, such as respect for the sovereignty, independence and territorial integrity of Ukraine.
He also emphasized that Cyprus supports efforts to ensure accountability for the violation of human rights, highlighting the role that the EU can play.
Finally, in view of the adoption of the 10th set of sanctions, Mr. Kasoulidis reiterated the importance of having an effective framework of sanctions which will discourage their circumvention practices by third countries, such as Turkey.
Mr. Kasoulidis, for whom this is also the last SEY before the end of his term , will participate on Tuesday in the General Affairs Council in which the Ministers responsible for European affairs participate.
The Foreign Minister also participated in a video prepared by the Council on the occasion of the one year anniversary of the beginning of the invasion of Ukraine, in which each Minister of Foreign Affairs was asked, among other things, to refer with a word or phrase to the role of Ukraine, choosing the phrase "heroic people".
Source: KYPE