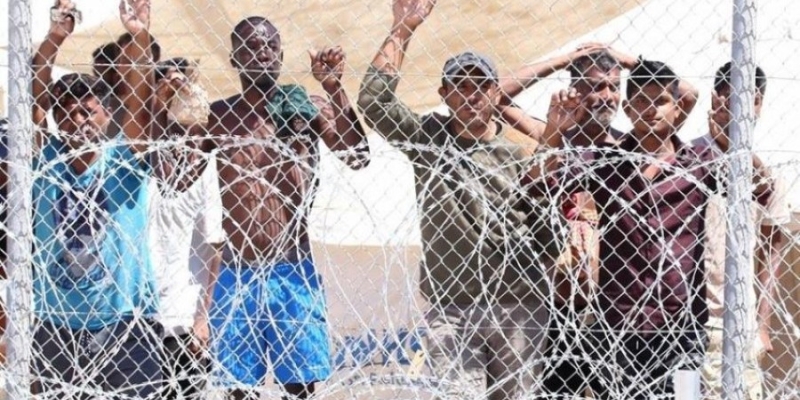 New asylum applications in the European Union rose by 10% last October compared to the previous month, according to data released by Eurostat, the EU's statistical agency. .
Meanwhile in Cyprus the second largest number of new applications was registered according to' population proportion, according to the same data.
In particular, 99,175 new applications for asylum and international protection status were registered in the EU Member States in October, 8,630 more people than in the previous month, recording an increase of 10%. Compared to October 2021 (when the number of applications stood at 59,870), the increase in the total number of applications reached 66%.
Regarding the number of subsequent applications (re-applications after a decision has been taken on a previous application), a decrease was recorded. In October 2022, 6,380 subsequent applications were recorded, marking a 3% decrease (185 fewer) compared to September of the same year. Compared to October 2021, a 5% decrease was recorded.
As in the previous two months, most asylum seekers in October 2022 were Syrians (18,420 new applications). Followed by Afghans (13,695) and Turkish citizens (6,770).
Immediately after Russia's invasion of Ukraine there was a large increase in new Ukrainian applications (from 2,370 in February to 12,890 in March), but since then the numbers have been falling, from 1,510 in April to 950 in October. This change is explained, among other things, by the EU's decision to grant temporary protection status to Ukrainian refugees.
Also in October, Russian citizens were the 13th group of citizens of other states in number of new asylum applications with 1,960 new applications , 650 more than in September.
In Germany the largest number of new applications
———–
Since the beginning of 2022, Germany remains the country with the highest number of new asylum applications in the EU. In October, the country had received 24,910 new applications, 25 % of all EU applications.
Austria (17,745, 18%), France (13,680, 14%), Spain (10,905, 11%) and Italy (8,385, 8%) followed ). A total of 76% of all new applications in the EU were made in these five countries.
Cyprus is second in applications by' population ratio
—————-
Across the EU in October 2022 there were 222 new applications per million inhabitants.
The highest number of new applications by' population ratio in October was recorded in Austria (1,976 applications per one million people). Cyprus (1,819 per million) and Croatia (505) followed. The lowest ratio was recorded in Hungary (0.3).
In total, 5,225 unaccompanied minors applied for asylum in October
—— ———
As for the number of unaccompanied minors who submitted new applications for international protection in October, this number reached 5,255, recording an increase of 6% compared to September (4,950).
Most unaccompanied minors who applied asylum seekers in October came from Afghanistan (2,315), Syria (1,440), Somalia (210), Turkey (140) and Eritrea (135).
The largest number of unaccompanied minors seeking asylum in October it was recorded in Austria (2,055), Germany (800), the Netherlands (590), Belgium (530) and Bulgaria (445). All five of these countries saw an increase, except for Austria where there was a slight decrease of just 15 applications.
Cyprus, along with France and Poland, are not required to provide data on unaccompanied minors as have received a temporary exemption.
Read also: Imam hands out curses to the t/c: "May my God give you such calamities"