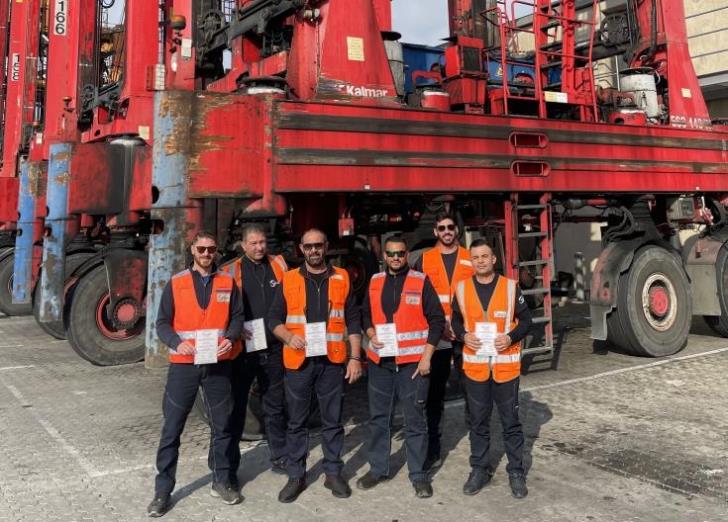 & nbsp & nbspInsider/ΚΥΠΕ & nbsp; & nbsp;
Aiming at the international certification of its staff in the use of a horizontal container transport machine (Straddle Carrier), the management company of the container terminal, in the port of Limassol, has completed the "trainer training" program.
According to an announcement by the Eurogate Container Terminal Limassol, through the program, six pilots have been trained by an accredited British trainer and are now the only ones in Cyprus who hold the ITSSAR (Independent Training Standards Scheme and Register) certification in the training of using Straddle Carrier.
ITSSAR, he added, is one of the most recognized organizations in the world in the training of machine operators and the six certified trainers of Eurogate, will further undertake the training of all machine operators of the company in the use of Straddle Carrier. The ultimate goal is the certification of all pilots with the new ITSSAR standard, thus upgrading the training standard that the company had developed internally, the announcement adds.
He notes that, "despite the conditions created by pandemic, the company has not stopped investing in staff training and enhancing port security. "
It also indicates that ITSSAR certification comes just one year after the company was certified as an AEOF Approved Economic Operator (Authorized Economic Operator – Full) at the highest level of the institution "Customs Simplifications, Security and Protection" by the Department of Customs.
In a statement, the Business Director of the company, George Pouros assured & nbsp; Eurogate will continue to invest in the port of Limassol, with the primary concern being the provision of high quality services and the consolidation of safety conditions at work, for the further development of trade and economy ".