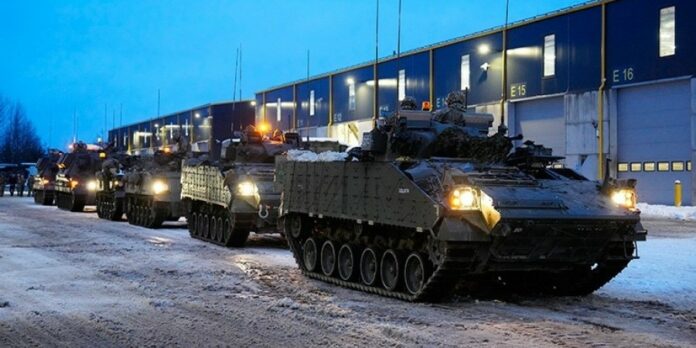 Military spending in Europe surpassed its end-Cold War level in 2022, the biggest increase in more than three decades, boosted mainly by Russia's invasion of Ukraine, according to a benchmark report released today. .
Across all continents combined, military spending reached a new peak in 2022, reaching $2.24 trillion, or in other words 2.2% of global GDP, according to data revealed by the International Peace Research Institute of Stockholm (SIPRI).
This is, on a global scale, the eighth consecutive year of increase in military investments (+3.7%).
"They increased due to the war in Ukraine, which pushed up European budgets, as well as unresolved and rising tensions in East Asia," between China on the one hand and the US and its Asian allies on the other, Nan Tian explained to AFP. , from the authors of the report.
After adjusting for inflation, the old continent spent 13% more on military spending in 2022.
This is the largest increase in more than 30 years and returns them – in deflated dollars – to the level of spending in 1989, the year the Berlin Wall came down.
This is a level "that we have never seen since the end of the cold war," Mr. Tian emphasized.
Ukraine (11th) practically quadrupled (+640%) its military spending, which jumped to $44 billion, in other words a third of its GDP. And this is without taking into account billions of dollars in arms donations from abroad, SIPRI points out.
Russian military spending increased by 9.2%, according to the institute's calculations. Russia thus found itself from fifth to third place.
But "even if we take out the two states that went to war, spending in Europe increased a lot," Mr. Tian pointed out.
European military spending, which reached $480 billion in 2022, they had already increased by more than a third in ten years and the trend is expected to continue into the next decade.
They could "potentially" increase at a rate similar to 2022 for years, according to the SIPRI researcher.
After a big decline in the 1990s, global military spending started to rise again from the 2000s.
First because of China's heavy investment in its military, then because of the resurgence of tensions with Russia, following the annexation of Crimea in 2014.
China 2nd
Alone, the US accounted for 39% of global military spending in 2022. Along with China, which now ranks second (13%), it accounted for more than half of global military spending last year.
The countries that follow, Russia (3.9%), India (3.6%) and Saudi Arabia (3.3%), are a long way off.
"China invests massively in its naval forces, to increase its reach to Taiwan and obviously beyond the South China Sea," noted Mr. Tian.
Japan, as well as Indonesia, Malaysia, Vietnam and , further afield, Australia are trying to follow the trend.
Britain is the first European country on the list, in 6th place (3.1% of global spending), ahead of Germany (2.5%) and France (2.4%) – these figures include their donations in Ukraine.
Britain, the second largest donor behind the US, "has traditionally spent more than Germany and France and has also given more (weapons to Ukraine) than Germany and France ", Mr. Tian emphasized, remaining in first place in Europe in terms of military spending.
Also, countries such as Poland, the Netherlands and Sweden are among those that increased their military spending the most in last decade.
Modern weapons systems, which are extremely expensive, such as the US F-35 fighter, partly explain some leaps in spending, such as those of Finland, which bought 64 aircraft last year.
Last month, another SIPRI report revealed that arms imports to Europe will almost double (+93%) in 2022, largely due to massive deliveries to Ukraine, which has become the world's third largest destination for military equipment.
p>