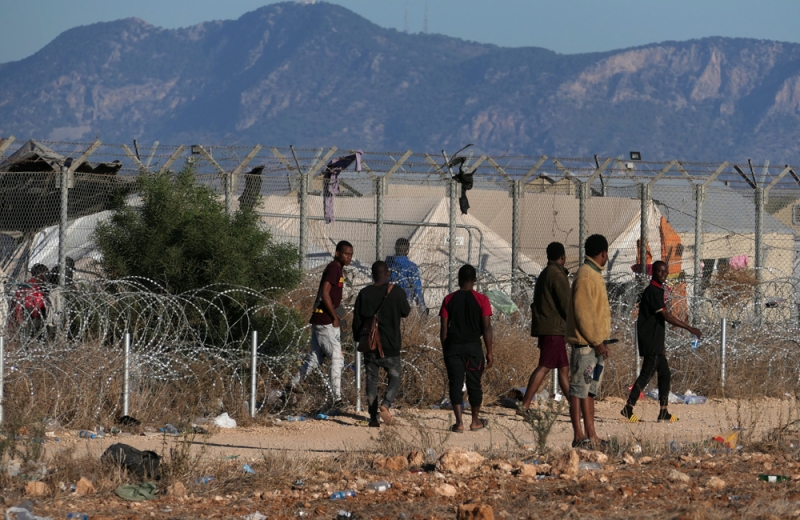 The first with a large difference in new asylum applications in proportion to its population was Cyprus in 2021, according to the latest data released by Eurostat, the statistical office of the European Union.
In particular, 14,799 asylum applications per one million inhabitants were registered in Cyprus in 2021, followed by Austria (4,111) and Slovenia (2,474).
The lowest number of new asylum applications per capita was recorded in Hungary, where only four applications per million inhabitants were made in 2021. Low numbers were also recorded in Estonia (57) and Slovakia (60).
O The average number of new asylum applications in the EU this year was 1,196 per million population.Eurostat also recorded a 28% increase across the EU in asylum and international protection applications in 2021 compared to the previous year, as applications, in absolute numbers, increased from 417,100 in 2020 to 535,000 in 2021.
These numbers, it is noted, move to the levels at which asylum applications were in 2014 just before the start of the civil war in Syria. More specifically, in 2014 530,560 asylum applications were registered, while in 2015 the number rose to 1,216,860 people and in 2016 to 1,166,815 people.
In Cyprus the absolute number of new asylum applications almost doubled from 7,065 in 2020 to 13,260 in 2021.
In relation to the time trends, in 2014 1,480 new asylum applications were registered in Cyprus, which increased to 2,105 in 2015 and to 2,840 in 2016. Since then, new applications are increasing every year, despite falling across Europe.
Germany first in asylum applications
In absolute numbers, the largest number of asylum seekers was recorded in Germany (148,175 applications, or 28% of the total in the EU). They were followed by France (103,790 or 19%), Spain (62,050 or 12%), Italy (43,900 or 8%) and Austria (36,725 or 7%). These five countries together accounted for almost three-fifths of all asylum applications in the EU.
Mainly from Syria, Afghanistan, Iraq, EU applicants
< 40% of all asylum applications to EU Member States were made up of citizens of Syria, Afghanistan and Iraq, with the largest proportion coming from Syria.
Specifically, 98,320 asylum seekers in the EU came from Syria (18% of total applications), 83,520 from Afghanistan (16%) and 25,965 from Iraq (5%). Syria remains the country with the highest number of applicants, while Afghanistan is in second place for the third consecutive year.
These three nationalities also made up the majority of asylum seekers in Germany in 2021. Germany also accounted for 56% of all Syrian asylum seekers in the EU, as well as 28% of all Afghan asylum seekers in the EU and 60% of all Iraqi asylum seekers in the EU. .
In Cyprus, the largest number of the 13,260 asylum seekers in 2021 came from Syria (3,055 people), followed by the Democratic Republic of the Congo (1,730 people) and Nigeria (1,555), Pakistan (995), India (990), Cameroon (775), Bangladesh (685), Somalia (680) and Nepal (620).
Global picture, 54% of applicants Asylum in the EU in 2021 came from Asian countries (excluding the aforementioned countries, and with lower rates from Pakistan and Bangladesh), 25% from African countries (mainly Somalia, Morocco, Nigeria, Eritrea and Tunisia with approximately 10% from each country), 10% from non-EU European countries (mainly Turkey and Albania, with a small number of higher percentages from Ukraine, Moldova and Russia) and 9% from North and South America (mainly from Venezuela and Colombia, and lower percentages from Peru, Haiti and Honduras).
Source: KYPE