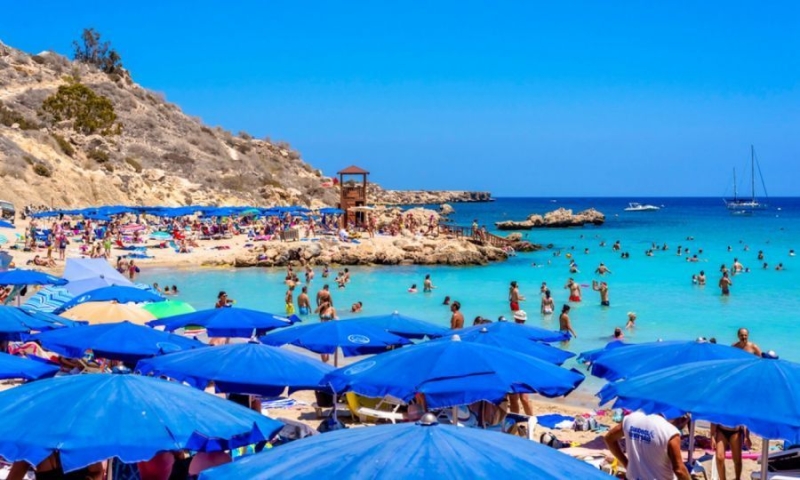 Around a third of tourist overnight stays in Cyprus, but also on average in the EU, for the year 2022, were recorded in the months of July and August according to data released by Eurostat, the statistical service of the European Union.
As stated in a related explanatory article, the data captures how seasonality affects tourism in terms of arrivals and overnight stays in tourist accommodation.
In 2022 the EU saw traditional seasonal trends, with August being the month with the most traffic (18% of overnight stays for the year, accounting for 478 million overnight stays) with July (16%, 440 million) following close behind.
Conversely, the months with the lowest shares of overnight stays were January (3%, 89 million) and February (4%, 111 million).
In Cyprus, the months with the most overnight stays were also, with little difference between them, August (2 million 563 thousand 918 nights) and July (2 million 563 thousand 425 nights). The lowest numbers were recorded in February (194 thousand 152) and January (199 thousand 220).
In terms of tourist accommodation arrivals, a significant percentage in the EU was also recorded in July and August (14% for each month, 127 and 128 million arrivals, respectively).
In Cyprus, the highest number of arrivals was recorded in July (481 thousand) and August (450 thousand).
As noted, the peak period of overnight stays in the EU (as well as in Cyprus) is more intense than the peak period of arrivals, which which shows that tourists tend to stay longer in the countries they visit during this period, as it may correspond to their main holidays. This trend increases the demand for accommodation during the summer season.
July and August were the peak months for overnight stays in all EU countries in 2022. This trend was strongest in Croatia (59% of overnight stays in 2022), Bulgaria (48%) and Greece (43%), and less strongly in Malta and Finland (both 25%) and Germany (26%).