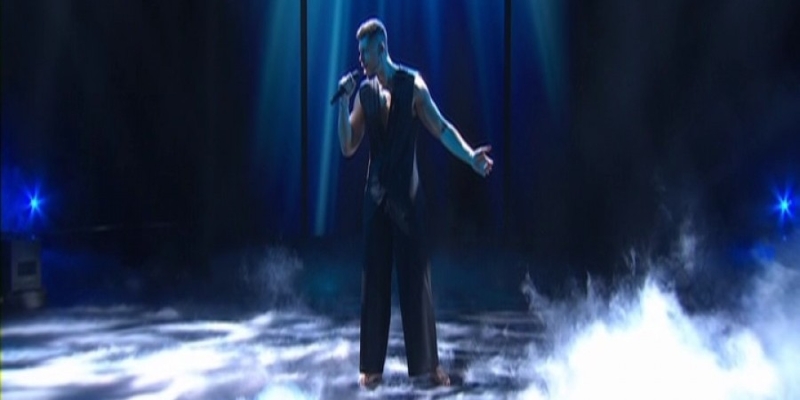 The Cypriot Andrew Lambrou performed the song "Break A Broken Heart" and stole the impressions on B' Semi-final.
Andrew Lambrou took to the stage at the M&S Bank Arena in Liverpool, United Kingdom, where this year's 67th Eurovision Song Contest will take place.
Let us remind you that the unique dynamic ballad, with which the Cypriot singer who lives permanently in Australia enchanted us, has been written by Thomas Stengaard, Marcus Winther-John, Jimmy Jansson and Jimmy Joker Thornfeldt. The track talks about relationships that end ignominiously but in the end we manage to come out stronger.
Watch his performance tonight in the 2nd Semi-Final:
We demand to know who broke Andrew's heart because why? 🇨🇾 #Eurovision pic.twitter.com/Ptqmvp9ltx

— Eurovision Song Contest (@Eurovision) May 11, 2023
In an interview with Eurovisionfun a few hours before his performance in the 2nd Semi-Final today, he stated that he feels particularly happy with his last rehearsal and extremely prepared for tonight's semi-final.
"Me and my team we are very pleased and can't wait for you to see the final result!»
In addition, he mentioned that he is ready to set fire to the Liverpool stage again, while he then did not hesitate to express his love for the fans of the competition and the audience that watched his appearance.
Afterwards, Andrew Lambrou revealed to us that "I would like to start a music career in Greece and Cyprus after the competition!"
Finally, he also mentioned the Greek delegation and Victor Vernicos, saying that " ;He must be proud of himself! She is only 16 years old and sings fantastically. Of course, Greece and Cyprus support each other and it is very nice that we are here together!»
The countries participating in the 2nd Semi-Final:
Strap in for two hours of #Eurovision joy – here's tonight's running order:

🇩🇰 Denmark< br /> 🇦🇲 Armenia
🇷🇴 Romania
🇪🇪 Estonia
🇧🇪 Belgium
🇨🇾 Cyprus
🇮🇸 Iceland
🇬🇷 Greece
🇵🇱 ​​Poland
🇸🇮 Slovenia
🇬🇪 Georgia
🇸🇲 San Marino
🇦🇹 Austria
🇦🇱 Albania
🇱🇹 Lithuania
🇦🇺 Australia

— Eurovision Song Contest (@Eurovision) May 11, 2023
Read also: Eurovision/First semi-final: Which countries secured a ticket to the final