POWERED BY:
15:21 Wednesday
8 June 2022 INSIDER • GOAL • IN-CYPRUS • PROPERTY • CYPRUS-IS • KARIERA LIKE • GOING OUT • XRYSES SYNTAGES • ACTIVE • PHILGROUP ΕΙΔΗΣΕΙΣ & nbsp; SOCIETY & nbsp; INSIDER & nbsp; OPINIONS & nbsp; GOING OUT & nbsp; CULTURE & nbsp; SPORTS & nbsp; AUTO & nbsp; GOOD LIFE & nbsp; USEFUL & nbsp; PRINTED EDITION & nbsp;
ΑΡΧΙΚΗΕΙΔΗΣΕΙΣΠΟΛΙΤΙΚΗΤΟΠΙΚΑΠΑΡΑΣΚΗΝΙΟMEDIAΕΛΛΑΔΑΚΟΣΜΟΣΕΠΙΣΤΗΜΗΠΡΟΕΔΡΙΚΕΣ 2023ΤΕΧΝΟΛΟΓΙΑΣΥΝΕΝΤΕΥΞΕΙΣΧΡΥΣΕΣ ΕΤΑΙΡΕΙΕΣΚΟΙΝΩΝΙΑΕΙΔΗΣΕΙΣΚΥΠΡΟΣ ΤΟΥ ΧΘΕΣΑΝΑΓΝΩΣΤΗ ΕΧΕΙΣ ΛΟΓΟΕΠΙΣΤΟΛΕΣΣΥΝΕΝΤΕΥΞΕΙΣΔΗΜΟΦΙΛΗ ΣΤΟ INTERNETVIDEOSΑΦΙΕΡΩΜΑΤΑADVERTORIALINSIDERΕΠΙΧΕΙΡΗΣΕΙΣΚΥΠΡΟΣBRAND VOICECAPITALFORBESBLOOMBERG OPINIONΠΡΩΤΑΓΩΝΙΣΤΕΣΚΑΥΤΗ ΓΡΑΜΜΗΧΡΥΣΕΣ ΕΤΑΙΡΕΙΕΣΚΑΡΙΕΡΑΑΠΟΨΕΙΣΑΡΘΡΑ ΣΤΟΝ "Φ"ΠΑΡΕΜΒΑΣΕΙΣ ΣΤΟΝ "Φ"ΤΟ ΜΗΝΥΜΑ ΣΟΥ ΣΚΙΤΣΑΟ ΚΟΣΜΟΣ ΤΟΥ TWITTERGOING OUTTHINGS TO DOCINEMAΜΟΥΣΙΚΗΕΣΤΙΑΤΟΡΙΑBAR/CAFETV ΟΔΗΓΟΣΤΗΛΕΟΡΑΣΗΠΟΛΙΤΙΣΜΟΣΚΥΠΡΟΣΚΟΣΜΟΣΚΡΙΤΙΚΕΣΕΚΔΗΛΩΣΕΙΣΠΡΟΣΩΠΑΑΘΛΗΤΙΚΑΠΟΔΟΣΦΑΙΡΟΜΠΑΣΚΕΤΠΑΡΑΣΚΗΝΙΑΕΛΛΑΔΑΔΙΕΘΝΗΑΛΛΑ ΣΠΟΡΑΠΟΨΕΙΣΣΚΙΤΣΟVIDEOSAUTOΝΕΑΠΑΡΟΥΣΙΑΣΗΑΠΟΣΤΟΛΕΣΑΓΩΝΕΣΚΑΛΗ ΖΩΗΥΓΕΙΑΔΙΑΤΡΟΦΗΕΥ ΖΗΝΑΣΤΡΑΧΡΥΣΕΣ ΣΥΝΤΑΓΕΣΣΥΝΤΑΓΕΣ ΣΕΦΒΗΜΑ ΒΗΜΑΧΡΗΣΙΜΑΦΑΡΜΑΚΕΙΑΓΙΑΤΡΟΙΑΕΡΟΔΡΟΜΙΑΛΙΜΑΝΙΑΤΗΛΕΦΩΝΑΟΠΑΠΚΑΙΡΟΣΣΥΝΑΛΛΑΓΜΑΛΑΧΕΙΑAPPSΠΡΟΣΦΟΡΕΣΕΝΤΥΠΗ ΕΚΔΟΣΗ ΠΟΛΙΤΙΚΗΤΟΠΙΚΑΠΑΡΑΣΚΗΝΙΟMEDIAΕΛΛΑΔΑΚΟΣΜΟΣΕΠΙΣΤΗΜΗΠΡΟΕΔΡΙΚΕΣ 2023ΤΕΧΝΟΛΟΓΙΑΣΥΝΕΝΤΕΥΞΕΙΣΧΡΥΣΕΣ ΕΤΑΙΡΕΙΕΣ ΕΙΔΗΣΕΙΣΚΥΠΡΟΣ ΤΟΥ ΧΘΕΣΑΝΑΓΝΩΣΤΗ ΕΧΕΙΣ ΛΟΓΟΕΠΙΣΤΟΛΕΣΣΥΝΕΝΤΕΥΞΕΙΣΔΗΜΟΦΙΛΗΣΤΟ INTERNETVIDEOSΑΦΙΕΡΩΜΑΤΑADVERTORIAL ΕΠΙΧΕΙΡΗΣΕΙΣΚΥΠΡΟΣBRAND VOICECAPITALFORBESBLOOMBERG OPINIONΠΡΩΤΑΓΩΝΙΣΤΕΣΚΑΥΤΗ ΓΡΑΜΜΗΧΡΥΣΕΣ ΕΤΑΙΡΕΙΕΣΚΑΡΙΕΡΑ ΑΡΘΡΑ ΣΤΟΝ "Φ"ΠΑΡΕΜΒΑΣΕΙΣ ΣΤΟΝ "Φ"ΤΟ ΜΗΝΥΜΑ ΣΟΥ ΣΚΙΤΣΑΟ ΚΟΣΜΟΣ ΤΟΥ TWITTER THINGS TO DOCINEMAΜΟΥΣΙΚΗΕΣΤΙΑΤΟΡΙΑBAR/CAFETV ΟΔΗΓΟΣΤΗΛΕΟΡΑΣΗ ΚΥΠΡΟΣΚΟΣΜΟΣΚΡΙΤΙΚΕΣΕΚΔΗΛΩΣΕΙΣΠΡΟΣΩΠΑ ΠΟΔΟΣΦΑΙΡΟΜΠΑΣΚΕΤΠΑΡΑΣΚΗΝΙΑΕΛΛΑΔΑΔΙΕΘΝΗΑΛΛΑ ΣΠΟΡΑΠΟΨΕΙΣΣΚΙΤΣΟVIDEOS ΝΕΑΠΑΡΟΥΣΙΑΣΗΑΠΟΣΤΟΛΕΣΑΓΩΝΕΣ ΥΓΕΙΑΔΙΑΤΡΟΦΗΕΥ ΖΗΝΑΣΤΡΑΧΡΥΣΕΣ ΣΥΝΤΑΓΕΣΣΥΝΤΑΓΕΣ ΣΕΦΒΗΜΑ ΒΗΜΑ ΦΑΡΜΑΚΕΙΑΓΙΑΤΡΟΙΑΕΡΟΔΡΟΜΙΑΛΙΜΑΝΙΑΤΗΛΕΦΩΝΑΟΠΑΠΚΑΙΡΟΣΣΥΝΑΛΛΑΓΜΑΛΑΧΕΙΑAPPSΠΡΟΣΦΟΡΕΣ ΕΠΙΧΕΙΡΗΣΕΙΣ ΚΥΠΡΟΣ BRAND VOICE CAPITAL FORBES BLOOMBERG OPINION ΠΡΩΤΑΓΩΝΙΣΤΕΣ ΚΑΥΤΗ LINE GOLDEN COMPANIES CAREER
EXCLUSIVE COOPERATION
TOP WITH
Next EV announces 4 new Partners, including G. Tziortzis HOME • INSIDER • BUSINESSES • EV announces 4 new Partners, including C ….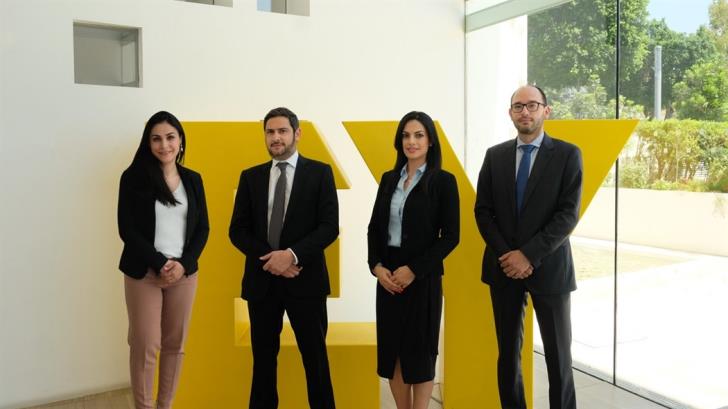 Head of Consulting Services The company now has 28 Partners while the new promotions strengthen the female representation in senior management positions
The CEO of EV Cyprus, Ronald Attard, welcomed the announcement of 4 new partners in the Cypriot company.
George Tziortzis is an iconic addition to EY's leadership team, as he joined directly as a Partner, after a remarkable career in Cyprus and abroad, to lead the company's rapidly growing Consulting Services. As the market emerges from the difficult period of the last two years, EY is investing in strengthening its consulting teams, in order to maintain a strong market lead, supporting clients in the implementation of their business initiatives, technological and digital transforming them, and at the same time managing risk and ensuring compliance.
Commenting on the announcement, CEO Ronald Attard said: "I'm excited to welcome George to the EY family. "Knowing his impressive career, I'm sure he can strengthen our consulting services and, through the vast experience and skills he has gained during his career, he will help us grow our company in these difficult times." .
In addition, the company is proud to announce 3 new Partners promoted to the Departments of Taxation and Strategy & amp; Transactions, increasing the total number of Partners in Cyprus to 28. "Andreas Anastasiou, Andrea Koukouni and Anna Papamichael "They are extremely capable people, with values ​​and vision, who will make a significant contribution to achieving the goals of the company, our customers and our teams," said Ronald Attard.
At EY, we believe that different perspectives combined with an inclusive culture lead to better decision-making, stimulate innovation, increase organizational flexibility and enhance resilience in a time of turmoil. In this context, Ronald Attard commented: "I am particularly proud that half of our new Partners are women, reaffirming our commitment to the implementation of equal opportunities and diversity. I am just as proud of the progress we continue to make, while acknowledging that this is only the beginning. We need to strengthen our teams & nbsp; with people with different backgrounds and skills in order to achieve inclusive inclusion. There is certainly a long way to go to fulfill our commitment to equal representation, but I firmly believe that we have now laid a solid foundation and are moving in the right direction. "
As the world emerges from COVID, and despite the various geopolitical and economic challenges, the demand for professional services remains strong, especially as businesses strive to transform, understand, meet and exceed their changing obligations. EY in Cyprus is committed to continuing to offer solutions that meet the needs of our customers and to help them meet their challenges in the foreseeable future. "Our excellent teams consistently provide the highest quality service to our customers, demonstrating flexibility, adaptability and perseverance. Our company is strengthened with selected executives and we are determined to continue investing in the professional development and progress of our people, because they are what make this organization stand out. "We look forward to working with our new Partners as we help our clients navigate this demanding environment," said Ronald Attard.
Partners will take on their new roles from July 1, 2022.
The new Partners:
George Tziortzis, Head of Consulting Services
George has more than 25 years of experience in administrative and consulting roles focusing on Business and Digital Transformation. He has worked in the United States, Switzerland and Cyprus helping organizations in different industries transform and increase their value. George led advisory teams, served as a senior executive and was a member of management teams, always bringing the vision of transformation and technology to the boards of organizations.
George helps organizations redefine their operating model, improve their processes, develop new business models, and leverage technology and digital services to increase revenue and optimize customer value and experience. Has managed and provided services to customers in different countries and industries with a focus on Banking, Payment Systems, Government/eGovernment, Retail and Telecommunications, contributing significantly to national initiatives such as the digital signature model and Prior to joining EY, George worked for the University of Louisiana Telecommunications Office for 2 years, was a member of KPMG for 22 years, and served as Director of Digital Transformation, CIO and Consultant. Of Digital Economy and Transformation at Bank of Cyprus.
Andreas Anastasiou, Strategy and Trading Services
Andreas works in the Strategy and Trading Department of EY in Cyprus. He holds a UK degree in Accounting and Finance and has been a Certified Public Accountant, a member of ICAEW and SELK since 2003. Prior to joining EY, he held management positions in another large select office and a group operating in the hospitality and real estate sector. Andreas provides consulting services to private and public sector organizations, covering various sectors of the economy. In particular, it specializes in due diligence exercises, mergers and acquisitions, corporate reorganizations and debt restructurings, preparation of feasibility studies, business plans, and valuations for evaluation and fundraising purposes.
Koukouni, Tax-Legal Services
Andria studied Law at the University of Warwick and earned a Master's Degree in International Commercial Law from the University College of London (UCL). Made a Barrister-at-Law of England and Wales by the Honorable Society of Gray's Inn and trained at the European Commission (DG Consumer Protection). He holds the Advanced Certificate of the Cyprus Securities and Exchange Commission and is a member of the Legal and Regulatory Committee of the Cyprus Investment Funds Association (CIFA). Andria heads the department of Financial Services, Investment Funds and Capital Markets of Prountzos and Prountzos DEPE | EY Law in Cyprus since March 2020. Has extensive experience in the banking and financial legal sector and deals extensively with the establishment and operation of investment funds and investment companies. He has participated as a legal advisor in the largest NPL portfolio (NPL) in Cyprus, in landmark transactions for the financial sector and is an advisor to financial institutions regarding legal and regulatory issues.
Anna Papamichael , Tax Services
Anna joined EY Cyprus in 2008 in the group of Tax Compliance and Business Consulting, where she specializes in tax issues for the sectors of Banking, Insurance, Finance and Real Estate. Anna holds a degree in Mathematics, Statistics and Accounting and is also a Certified Public Accountant. During her career in the Department of Tax Compliance and Business Consulting, she leads a variety of projects covering the full range of Direct Taxation. Anna has extensive and specialized knowledge with banks, insurance and construction companies as she deals with their daily regulatory/tax issues. He has led and worked on restructuring projects for leading banks in Cyprus, as well as for buyers and sellers of due diligence projects for various banking institutions. He also advises on tax planning for the acquisition and disposal of assets/real estate seized by banks and construction companies.