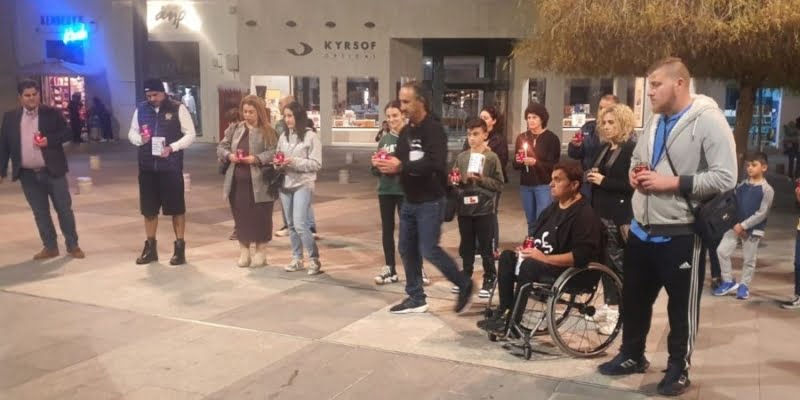 An event in memory of the victims of traffic accidents was organized on Sunday evening, within the framework of the World Day of Remembrance for Victims of Traffic Accidents, by the Municipal Youth Council of the Municipality of Paphos in collaboration with the Traffic Department of the Police Directorate Paphos, the Round Table – 7 and Community Policing.
Giorgos Tselepos, on behalf of the Municipal Youth Council of the Municipality of Paphos, in his statements to the journalists, stated that the International Day of Remembrance for the Victims of Traffic Accidents was established in 1993 by the European Federation of Traffic Victims (FEVR) and is celebrated every year on third Sunday in November.
Twelve years later, it continued, it took on a global character, when it was adopted by the UN General Assembly (resolution 60/5 of 26 October 2005).
As he mentioned, every day, almost 4,000 people lose their lives around the world in road accidents and over a million every year. He added that in the last 20 years in Cyprus, unfortunately, there is not a house that does not know a person or a friend who has not been a victim of a traffic accident.
We honor, he said, the victims and express our wish and the belief that one day our society will develop the necessary culture and the prescribed measures will be put in place to eliminate road accidents and victims.
The aim of this day, he added, is to bring to our memory and to honor the millions killed and injured in road accidents and to make every effort to provide proper information to prevent road accidents, which lead to death or serious injury.
The event was held in Kennedy Square on Sunday and included lighting of candles in memory of the victims, as well as songs by Nearchos Nearchos.
It is noted that during the event a fundraiser was held to support the citizens of Paphos.
Source: KYPE