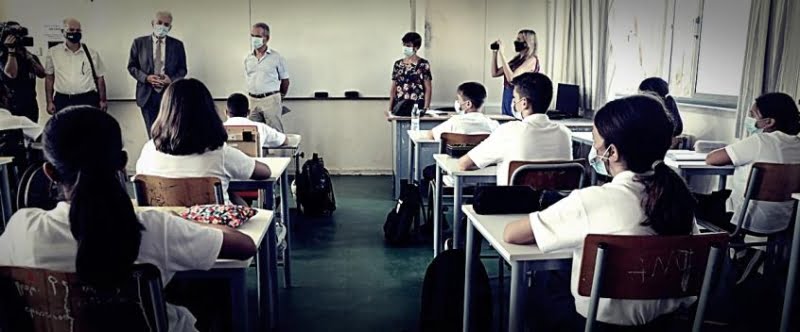 "They continually teach children lessons about discrimination and the Ministry of Education itself comes and promotes racism. If my child was unable to attend, I would not be so vocal and try to oppose the decisions of the Ministry of Education. But I know my child made so many attempts and they can't come and cancel them now."
These are the words of Ms. Nikis Karaoli, the mother of eight-year-old Anna-Maria, who has been at home for the last two weeks. And this, because the Ministry of Education decided that the child should be transferred for a few hours to the Special Unit, causing the strong reaction of the family. And this, because the child presents an improved general picture, while her learning situation is also improved.
Despite all this and without the child being re-evaluated by the Special Committee, as the family complains, the Ministry of Education decided to change her learning context, at least for two subjects, as for Mathematics and Greek, the eight-year-old will have to transfer to the special unit.
"It is for reinforcement in mathematics and Greek and all the other hours, they will be in his class normally. However, in order to strengthen a child in mathematics and Greek, due to learning difficulties, should the school context be changed? Should he go into the special unit? Can't he stay in his class and have some support? Why should the school context change, for a child who has been studying without a problem for a year in his class? Are they coming now and insisting on changing the context? "For what reason?" asked the eight-year-old's mother.
Diagnosis and Golgotha ​​until redemption
From the early stages of Anna-Maria's life, her family knew that she would be different from other children. The diagnosis came with her birth and that's when a Calvary began, which lasted until the first years of her life, when she started to develop.
"Anna-Maria suffers from Jacobsen syndrome. This is a syndrome, based on which the child has a hematological problem, a heart problem and severe ADHD, for which he receives medical treatment. It also presents some deformities in its characteristics, such as drooping eyelids, problem in coordinating movements. It is a congenital syndrome and Anna Maria is very lucky, since mentally she is very good, she can fully understand and understand everything. Generally, no one understands that this child has a syndrome. The only way he can understand it is because of an eyelid drop.
The diagnosis, naturally, came to the family like a bolt from the blue, since like all other families of children with disabilities, they did not think that they would be faced with this problem. A problem, which then becomes a blessing for everyone.
"When you give birth to a baby and within a few days the test results come out and they tell you that your child is suffering from a syndrome, you do a first search and see what my child is suffering from. That's where the breakdown came in, because what people with this syndrome seem to experience is tragic. It was something that until he could walk, talk, see that he responds, we went through a Golgotha, but Thank God we have a very good development. I wanted to believe that it would go that way, but inside I was very afraid of the development. There were times when, if I didn't have the support of my husband, I would have collapsed".
The changes brought by the diagnosis and the difficulties on their way
Although they have now accepted the situation and know that their child, not only does not lag behind other children in anything, but can cope with several difficulties that will come her way, when the diagnosis came, things changed radically.< /p>
"This particular diagnosis has changed our lives a lot, especially in the first years when we were constantly running to the doctor, until we could see the child's progress. We did treatments, which are still going on today, but not to the same extent. Our daily life is not easy, but we fight it. It is something that gives us courage that the child is well, that he can cope with the challenges of life and society. We have to expect things from this kid.
Our main problems are the hematological and the cardiology part. He is still being monitored by the Pediatric Oncology Department, due to the hematological problem, fortunately without any complications so far. It should be monitored on a regular basis. In general, we also have to deal with ADHD, which is a difficult condition and we rely on medication to be able to focus and control our impulsivity and hyperactivity.
ADHD did not create any problems in her school career. Only the academic ones. The problem of concentration and hyperactivity are controlled by medication that the child takes before going to school and during school hours, to last until the end of the school day.
He did not face discrimination or racism
Another part in which Anna-Maria and her family were lucky is that the child was never a victim of discrimination or racism.
"From the age of 3.5 when she goes to school, but also in her life in general, she has never experienced racism in her life and we are very proud as her parents for that. We don't hide the problem, we don't try to hide it, we don't try to exclude the child from activities, like the rest of our children do. Anna Maria is very social and very loved by the other children, by the parents. Almost everyone knows her and they ask me how is it possible that they want to put Anna-Maria in the unit?"
The irrational decision of the Ministry of Education
And while the child's progress was good and according to her teachers she was showing improvement, the Ministry of Education made the unreasonable and unexpected decision to transfer the child to the Special Unit. And this, without any re-evaluation of the situation.
"Officially, the Ministry of Education did not ask for any evaluation to be done, after this trial period they gave the child. They think that one multi-thematic meeting was enough. However, I was also present at this particular multi-subject and I have to inform you that the baby's teachers were not in favor of him entering the special unit. The specialists of the Ministry of Education insisted that the child be included in the unit, that is, they who decided after the fact.
Her syndrome did not stand in the way of her attending school. For so long he attended the classroom normally, with some difficulties that are understandable, due to the fact that he has writing problems. He had been assessed for assistive technology equipment to better cope with writing. Although an assessment has been made and the Ministry has done the right thing and provided the school with the specific equipment, the school has not provided it. It has been available since last year, it is the end of November and the child still has not received the equipment.
We are talking about support and since last year I have been asking for supplementary teaching, a few hours a week, on an individual level, as is done in many other children at our school and they deny it. No remedial teaching is given and then they talk about supporting the child and I have to accept that the school context changes".
The child is currently at home, with his mother reporting that she is bored, while when she saw her classmates going to class, she started to cry.
"Things are difficult, because the child is tired of being at home for two weeks, asks to go to school. At the protest, which included her classmates, when she saw them leave to enter the classroom, she cried and wanted to go too. The school told us that its orders are that once the child goes to school, he will join the Special Unit.
If my child was unable to attend, I would not be so vocal and try to oppose the decisions of the Ministry of Education. But I know my child made so many attempts and they can't come and cancel them now. She asked me "Mom, does my teacher want me to go to unit?" and I answered her "no, my love. Your teacher knows how good you are. There are others who don't know". She wanted confirmation that the things she hears every day from her teacher are true".
Now, the family has appealed to the Commissioners for the Protection of Children's Rights and Administration and Human Rights and is awaiting their own dispositions. However, Despo Michailidou had requested an ex officio examination of the case on Monday morning, before even receiving the complaint from the parents. In the meantime, on the side of the family are also members of the Education Committee, such as Christos Christofias of AKEL and Andreas Apostolou of EDEK.
A message to everyone
< Ms. Niki, before closing, wanted to send a message to everyone. A simple message, but at the same time complex.
"I want to ask everyone to respect the right of these children to have equal treatment, in terms of education, to have the same opportunities and the same treatment. This is a lesson for the other children as well, that we should not separate anyone. Every day they are given lessons about discrimination and the Ministry itself comes and promotes racism. This is the message we got and we want to promote the opposite".