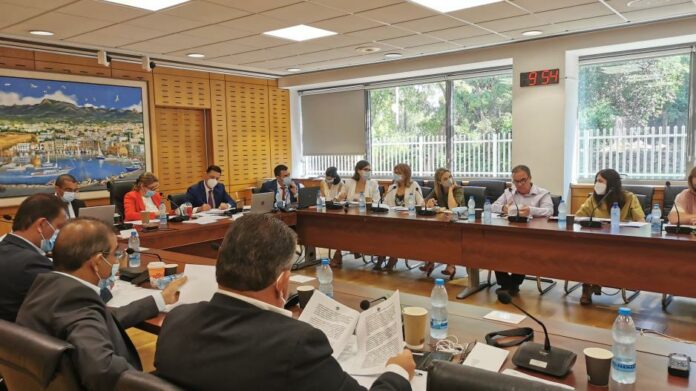 Initiative of AKEL, Environmentalists and Kostis Efstathios for a new suspension of sales
The Parliamentary Committee on Finance is holding an extraordinary meeting in the afternoon to consider the possibility of extending the suspension of sales, following the initiative by AKEL, Movement of Environmentalists-Citizens Cooperationand MP Kostis Efstathiou, for submitting a law proposal with the urgent procedure.
As AKEL MP Giorgos Loukaidis stated in his statements, the law proposal for a further three-month extension of real estate sales that are mortgaged for non-performing loans, is filed for the same reason as in the previous cases. He noted that the filing of the law proposal with the procedure of urgency, the aim is to advance the proposal directly to the Plenary, so that it gets the vote of the House.
According to Mr. Loukaidis, the three-month suspension of sales is considered necessary, "so that the new government can proceed quickly and to bring to the Parliament the plan for rent in exchange for an installment, but also for the Parliament to discuss therequired changes in the institutional regulatory framework, as these have been submitted by AKEL and other parties".
He noted that, at this stage, financial institutions are proceeding with divestment procedures, without the discussion of "institutional changes that will restore balancein the relationship between borrowers and banks", nor other measures to protect vulnerable borrowers. >.
"We must believe that there is a commitment from the President of the Finance Committee that in the immediate future, all relevant proposals will be put before the Committee", added Mr. Loukaidis >.
"All together will be discussed and I want to believe that the government will also take action, so that we have a permanent and stable and above all fair solution, to this big issue", he concluded.
In his statements about on the same issue, the Member of Parliament of DIPA, Alekos Tryfonidis, said that the Minister of Finance and the government should be given some more time to come up with proposals to resolve the issue of non-performing loans.
"At the same time, the President of the Republic should make a statement calling on loan management companies to stop this predatory treatment of borrowers, so as to give time to discuss in the Finance Committee the 13 pieces of legislation that will balance the relationship between the borrower and the management company", Mr. Tryfonidis continued.
He added that "if no initiatives are taken by the government, with proposals not only for the vulnerable groups, the entire middle class is at risk n found on the road".
source: KYPE