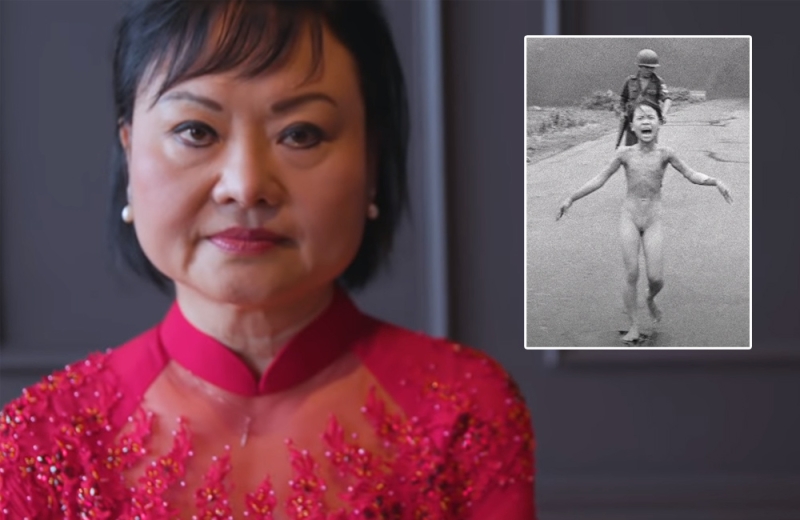 "I grew up in the small village of Tragbag in South Vietnam. "My mother told me that I laughed a lot as a young girl," recalls Fan Ti Kim Fook. US forces allied with South Vietnam were then trying for three days to drive the Vietcong out of the area and reopen the nearby highway, critical to their supply.
In coordination with the Americans, the Air Force of the South sent Skyraider planes that day to drop napalm bombs on enemy positions.
"I have only scattered memories of that horrible day," writes Fan Ti , who had taken refuge with her family and other villagers in a nearby Buddhist temple, in search of a safe haven.
"I was playing with my cousins ​​in the yard. Then, a plane flies down and a deafening noise. Then explosions, smoke and excruciating pain. I was 9 years old ".
"Napalm sticks to you no matter how fast you run, causing horrible burns and pain that last a lifetime," he says.
"I do not remember running and screaming. But the photos and the stories of others show that I did it "…
Wednesday marks exactly 50 years since the Associated Press photographer Hugh Kong "Nick" Out was photographed to become one of the most iconic photographs of the Vietnam War and the 20th century. >
US President Richard Nixon initially questioned its authenticity.
In these times of war, a closer look at what may be the most powerful photograph ever of innocent war victims. It was captured exactly 50 years ago today. #NapalmGirl #photography #photojournalism #thishappened @AP @NickUt https://t.co/rRB178O74r pic.twitter.com/hJheBXxtz8

— Worldcrunch (@worldcrunch) June 8, 2022
A picture, a thousand words /h2>
The photo of "Nick" Out, who won the Pulitzer Prize in 1973, almost went unreported.
It was initially rejected by the AP's New York headquarters because of the child's nudity. ", Ut had said in an earlier interview.
In the end, logic and journalistic criteria prevailed.
Four days after it was taken, the photo of Fan Ti running in despair, having just thrown away her flaming clothes and screaming in pain, was on all the international headlines and imprinted in the collective memory.
In the meantime, had saved her life.
When Ut realized the critical condition of the little girl after the first few clicks, he hurried to pour water on her and transported her, along with other injured children, to the nearest hospital.
It took him almost half an hour to get there in his van loaded with pain and horror.
When doctors told him there was no room and he had to transport the injured children to Saigon, 50 miles away, he despaired.
"I told them, 'If he stays like this for another hour, he will die.' , Out described in an earlier interview."By and large, he took out the photojournalist's pass and told the doctors that the children's photo would appear in newspapers around the world the next day.
" If one of them dies, you will have a problem, "he threatened. .
"If I had not helped her she would have died", he had said years later, "I think I would have committed suicide after that".
Here is how the 'Napalm Girl' image became a symbol of the horrors of the Vietnam War pic.twitter.com/8h4NCZv4k8

— TRT World (@trtworld) June 8, 2022
From "Napalm Girl", peace activist
After first aid , Fan Ti was hospitalized for 14 months in the American hospital in Saigon.
At first "I had no idea where I was or what had happened to me," she says. "I woke up and was in the hospital with so much pain."
She underwent 17 surgeries, including skin transplants./p>
She was ashamed of the nude photo and the deformities in her body. The horror of the attack had more or less repelled her, due to the shock, from her memory.
"Growing up I sometimes wanted to disappear. "Not only because of my injuries – the burns caused intense, chronic pain – but also because of the shame and embarrassment for my deformity", she points out in her article.
"I tried to hide my marks under clothes. I was terribly anxious and depressed. The children at school drove me away. I was a figure of pity for the neighbors and, to some extent, for my parents. As I grew up, I was afraid that no one would ever love me. "
Only after treatment at a specialist clinic in West Germany in 1982 was she able to regain her mobility.
It was the same year, she said in interviews, that she had considered suicide.
Until he found the New Testament in the Saigon Library. And so, in communist Vietnam, she converted to Christianity and converted to the faith. >
There she met her later husband.
Returning from their honeymoon in Moscow in 1992, they found the opportunity to stop at a refueling plane in Newfoundland to seek political asylum in Canada.
>
They have been living near Toronto ever since. Canadians have been naturalized. They had two children.
Since 1997, the Fan Ti Kim Pook International Foundation has been operating to provide medical and psychological assistance to child victims of war.
The beginning has been made in fact in the USA.
Over the years, her foundation has supported dozens of related projects and programs in many countries around the world.
In recognition of its contribution to promoting a culture of peace through reconciliation and tolerance, it is for many years UNESCO Goodwill Ambassador for the culture of peace, while in 2019 he was honored with the Dresden Peace Prize.
50 years ago today, the "Napalm Girl" photo was taken. The image of Kim Phuc, naked and crying in agony as her skin burned from a napalm attack, shocked the world and is credited with hastening the end of the US war in Vietnam. pic.twitter.com/6UcTQzGROz

— VICE World News (@VICEWorldNews) June 8, 2022
The raw truth of war
< "I know what it's like to have your village bombed, your house deserted, to see family members die and the bodies of innocent civilians lying on the street," he told NYT.
These are the pictures of wars everywhere, he points out, as is the case with "the precious human lives being destroyed today in Ukraine."But "in a different way, it happens with mass shootings in schools," he said in the wake of the recent Texas massacre.
"It's being done with wars in other countries, but these attacks are the internal equivalent of war." But "it is easier to hide from the reality of war if we do not see the consequences," he said. , just as it happened with her own case half a century ago.
"This image will always serve as a reminder of the unspeakable evil for which humanity is capable," says Fan Ti, now 59 which still bears obvious signs of napalm burns.
"But I believe," he concludes, "that peace, love, hope, and forgiveness will always be more powerful than any weapon."