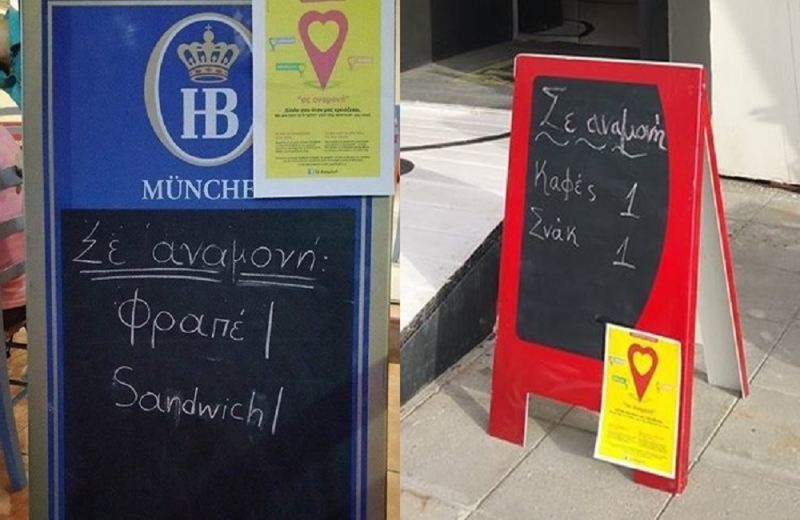 Years ago, in the midst of the economic crisis in Greece, an initiative was introduced aimed at helping people whose financial difficulties did not allow them to have even basic goods. Then an idea was born, which years later was to be established in several countries around the world.
Specifically, without anyone being exposed, the respective owner of the store cuts and keeps in a separate box the receipt of the product on hold that he has received and gives it to whoever asks for the product on hold. Paying for coffee, bread, milk, some meat, fruit and all kinds of products or services for a fellow human being who does not have the financial means to obtain .. So simple.
The above idea was transferred to Cyprus about six years ago, since the creation of the page "Coffee on hold", which through a list that is constantly updated companies small or larger report that they apply this practice.
List of Businesses "On hold"
PAPHOS
1) THE GARDEN OF EDEM
2) Coffeebrands Cyprus
3) Savvas Christoforou – Insurance Consultant
LIMASSOL
1) Klappis Meat Market
2) MT&MM TIRE Services LTD. .
3) Blue Oven Christoforou Bakeries
4) Elena Frixou – School / Educational Psychologist
5) kreopoleio.adoulotigialousa
6) The Arkateno – The Arkateno
7) Jack's Pizza only Ariel store
8) ULearn Education Center
9) Vacuum Power Line
10) Othellos kebab
11) The Coffice Hour
12) Katianna's Coffee Shop
13) Artopinelies bakery
14) MindLab Cyprus
15) Klados Supermarket
NICOSIA
1) Quattrino
2) Presse Cafe Cyprus & Infocredit Group Ltd
3) Geuseon Boutique
4) Despina Hadjisavva Clinical Hypnotherapist, Master Nlpier, Life Coach
5) Cherry Field Fruit Factory
6) All about sandwich and more
7) Annas studio & IPL
8) EDA DeutschAktiv German Language Center
9) Primo Taglio
10) Air Travel Aviation Academy Cyprus
11) Rafael Nicolaou – Success Coaching
12) KYR-ANTONIS GROCERY LTD
Markou Drakou, 80,
Kalopanagiotis
Nicosia Cyprus
LARNACA
1) The Bakery of Cyprus O FOYRNOS TOY KYPROY
PROVINCE OF FAMAGUSTA
1) MEGA Cash & Carry
Information for participation in the action: Mobile: 99952034
Email: onholdcy@gmail.com