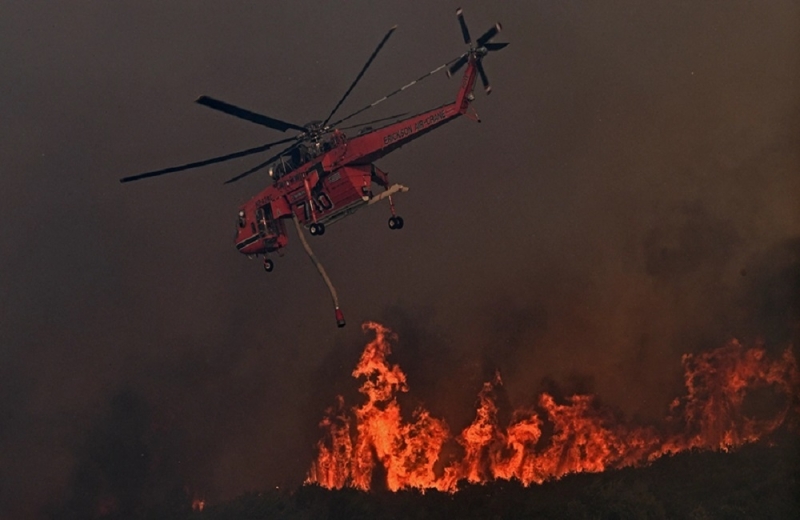 The second front appears to be the most threatening. It is in the direction of Sernikaki village, but it is very far from the village, which is not in danger at this stage. However, strong firefighting forces from the ground and from the air together with volunteers and machines are trying to contain the fire.
The third front is moving into Eleonas and is the most destructive, while ground and air means try to contain it .
#Πυρκαγιά σε αγροτική έκταση στο Σερνικάκι Φωκίδας. Επιχειρούν επίγειες και εναέριες δυνάμεις.

— Πυροσβεστικό Σώμα (@pyrosvestiki) July 4, 2022
"With such winds, no one can be optimistic" underlines the mayor of Delphi Panagiotis Tagalis, speaking to APE-MPE and in fact he notes that "it should be until the last light of the day, to have most of the fire under control because otherwise during the night things will become nightmarish" and asked for "reinforcement of ground and air resources while it is still day".
As it became known, a while ago the faults in some pumping stations were repaired and they started working again. However, the calls to limit water consumption remain.
At this time, more and more Fire Brigade forces and volunteers are gathering, while forces have been transferred from Fthiotida and Aitoloakarnania and at the same time, pedestrian units have been deployed forest commander in critical places.
Severe resurgence in Ilia
Meanwhile, a serious resurgence also occurred inValmi Ilia, due to the winds that blow in the area. In fact, around 6 pm, a message was sent by 112 to the residents of the village of Lata to evacuate to Ephyra.
⚠️ Ενεργοποίηση 1️⃣1️⃣2️⃣

🆘 Αν βρίσκεστε στo #Λάτα #Ηλείας εκκενώστε τώρα προς #Εφύρα

‼️ Δασική πυρκαγιά στην περιοχή σας

Οδηγίες προστασίας ℹ️ https://t.co/162IAidIpY @pyrosvestiki

— 112 Greece (@112Greece) July 4, 2022
in places that have not burned around Valmi.
In total, 195 firefighters participate in the extinguishing operation, with 7 groups of infantry departments, 48 ​​vehicles and the mobile operational center "OLYMPOS" . They also operate two aircraft and two helicopters, one of which is for coordination. Assistance is provided by volunteer firefighters, water carriers and OTA project machinery as well as forces of the Hellenic Army. is in the area of ​​the fire to investigate its causes.