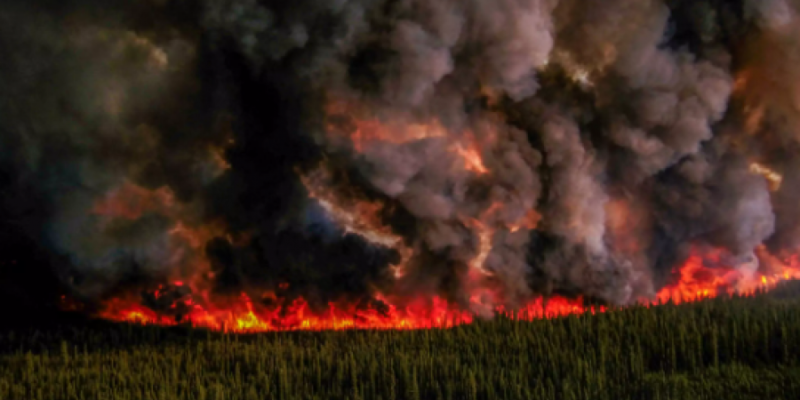 Fires raging in Canada spread now in the western province of British Columbia at the same time as hundreds of fires continue to burn on the other side of the country, in Quebec.
As Reuters reports, there have been 2,392 fires so far this year and 4, 4 million hectares of land have burned. Right now authorities said 427 are active fires, of which 232 are out of control.
About 2,500 people were told to evacuate the community of Tumbler Ridge in northeastern British Columbia on Thursday. Officials also extended evacuation orders for the Donnie Creek fire.
In the eastern province of Quebec, firefighters contained flames that had threatened hydroelectric facilities in the Lac-Saint-Jean region, about 300 km north of the city. of Quebec. Rain and higher humidity levels helped rescuers' work.
Federal authorities said this week they were concerned about the threat the blazes could pose to critical infrastructure.
Temperatures in parts of British Columbia soared to more than 30 degrees Celsius this week, nearly 10 points above the seasonal average. While rain is expected over the weekend, there is a risk of lightning.
In western Alberta, more than 3,500 people were still under evacuation orders and heat warnings were in effect across much of central Alberta.
Fire smoke continued to affect millions of people in eastern Canada and the northeastern United States.
Poor air quality is expected to remain in cities such as Ottawa, Toronto, New York and Washington until Sunday, when the wind direction shifts.
Firefighters from countries including South Africa, Australia and New Zealand, as well as hundreds of firefighters from the US, have arrived in Canada to help fight the fires.
🇨🇦 Hundreds of #wildfires are raging across #Canada.

The devastating fires have displaced more than 20,000 people and scorched about 3.8 million hectares of land in the country 👇 pic.twitter.com/NKwMISiOo7

— FRANCE 24 English (@France24_en) June 8, 2023
Source: KYPE