Immediate bailout of the bank to avoid further market shocks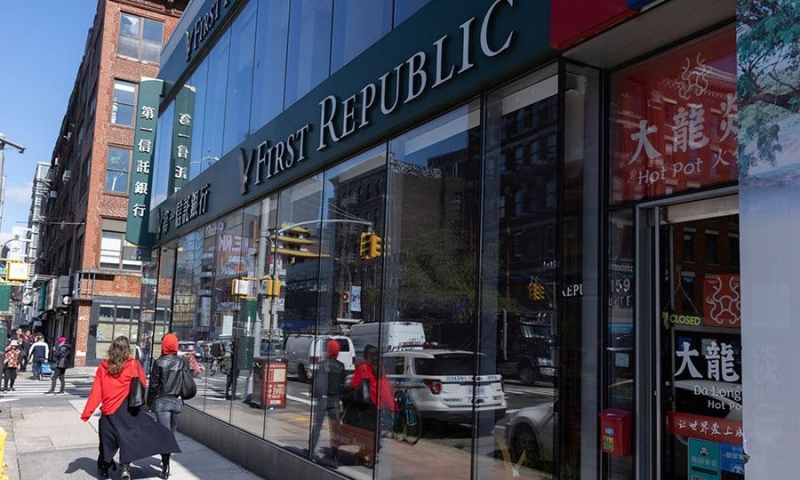 Founded in 1985, First Republic Bank was the 14th largest US bank at the start of the year.
MAUREEN FARRELL, LAUREN HIRES, GINA SMILEK/THE NEW YORK TIMES
The US banking watchdog yesterday took First Republic Bank under its control and automatically sold it to JPMorgan Chase. It was a dramatic move aimed at ending the banking crisis that has rocked the banking system for the past two months or so.
The deposit insurance fund will need to pay about $13 billion to cover First Republic's losses.
Since last month and the collapse of two other US banks, which alarmed depositors and investors, First Republic has struggled to survive as its assets lose some of their value due to rising interest rates. So the US Deposit Insurance Authority took it under their control and immediately sold it to JPMorgan and made sure the deal was announced hours before the US markets opened. Yesterday morning US time, First Republic's 84 stores opened in eight states as branches of JPMorgan. As the Deposit Insurance Authority states in its related announcement, JPMorgan "will take over all deposits and substantially all of First Republic's assets and liabilities." According to its estimates, the deposit insurance fund will need to pay about $13 billion to cover First Republic's losses, while it will also provide $50 billion in financing to JPMorgan.
The acquisition makes JPMorgan, already the largest bank in the US, even bigger and likely to become the subject of extensive scrutiny by Democrats. The US bank collapsed despite receiving a $30 billion capital bailout from the 11 largest US banks in March, which JPMorgan Chase said would be repaid upon completion of the takeover. That $30 billion injection of capital then brought some calm back to the market, allaying concern about the banking system, but not worry about First Republic's viability.
The bank, founded in 1985, was the 14th largest US bank at the start of the year. But its shares have lost almost all of their value after an uninterrupted sharp decline that began with the first tremors at Silicon Valley Bank.
Its end came after weeks of efforts by the bank itself and its advisers, either to save it or to find a buyer and avoid a government takeover. But their efforts were futile, as the other banks were unwilling to buy either all or parts of it without the government's guarantee that it would not leave them helpless with billions of dollars in losses. Last week it became clear that there was no alternative but to take it over from the government after the bank announced that its customers had withdrawn almost 50% of their deposits.
First Republic will go down in history as the second-largest U.S. bank by assets to collapse after Washington Mutual, which failed during the 2008 global financial crisis. Many industry experts interpret First Republic's woes as a belated reaction to turmoil that occurred in March after the collapse of two regional banks, Silicon Valley Bank and Signature Bank, and the resulting concern that other regional banks might fail as the risk of massive deposit withdrawals became visible.
Investors and executives in the sector state, however, that they are optimistic that there is no risk that another bank, whether medium or large, will go bankrupt. Even so, the US financial system has many problems. Recent bank failures and interest rate hikes have forced banks to cut lending, hampering efforts by businesses to grow and households to buy homes and cars. They are, thus, one of the causes of the slowdown that the American economy has been experiencing in recent months.