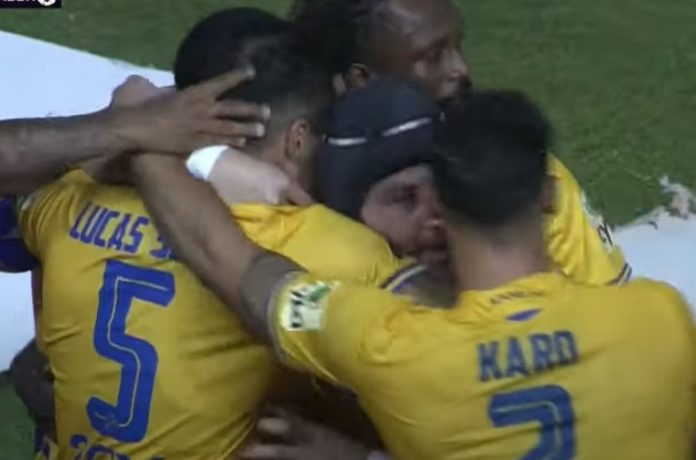 The first victory in the championship for APOEL is a fact. The "blue-yellows" had as their savior Lucas Souza who with a header in the 80th minute nailed the ball into the net and gave the victory with 1-0.
A little earlier, Sofroni Augousti sent the Brazilian to play as a striker and he succeeded.
It took a long time for the goal to come.
PAEEK was left with ten players from the 5th due to the dismissal of Sumaoro.
In the 36th minute, Maglitsa lost a penalty for APOEL.
In the 76th minute, APOEL was left with ten players due to the dismissal of Okriashvili.
To reach 80 'in the goal of Souza who decided the match.
APOEL (S.Augusti) : Michael, Karo, Souza, Maglitsa (58 τα Dausville), Okriasvili, Theodorou (66 ′ Dogala), Polykarpou (75 ′ Katsantonis), Sampala, Natel, Savic, Danilo (75 ′ Tseba)
On the bench: Skoufet, Tsiligiris, Ephraim, Lundemo, Satsias, Diavara, Wheeler, Koutsakos.
PAEEK (M. Sergidis) : Prosek, Essling, Sumaoro, Dimitriou, Varela (58 ′ Komodikis), Enoch (58 ′ Nanto), Aristotelous, Babic, Jansen (18 ί Timmermans), Uros, Kouros
On the bench: Panagiotou, Mavromoustakos, Chatzikonstanti, Dias, Charalambous, Neophytou, Kapartis, Frangeskou, Neophytou

SCORER: 80 'Souza
YELLOWS: Karo, Okriasvili / Dimitriou
RED: Okriashvili Sumaoro
VIEWERS: About 4,500
Referee: Solomou Dimitris
First Assistant Referee: Lazarou Ioannis
Second Assistant Referee: Andreas Toumazou
4th Referee: Antoniou Menelaos
VAR: Fernandes Correira Gustavo
AVAR: Kalogirou Marios
Observer: Captain Costas