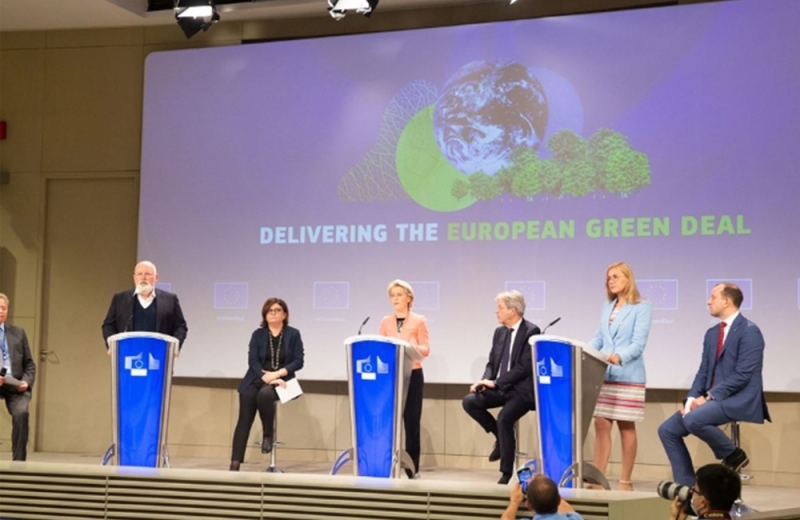 The Ministers of Environment, Costas Kadis, and the Minister of Transport, Giannis Karousos, spoke about a balanced agreement with provisions concerning the peculiarities of Cyprus in relation to shipping and air transport, in a joint written statement after the completion of the Council of Environment Ministers in Luxembourg. which was agreed by the common position of 27 for five central proposals of the "Fit for 55" package to reduce greenhouse gas emissions.
Cyprus supported the proposal from the beginning and "contributed with a series of constructive proposals, on the one hand to reach a consensus for the approval of the Package and on the other hand to include in it provisions that recognize our particularities as an island state," the joint statement said. >
Referring specifically to the Cypriot dimension of the agreement, they noted that Cyprus is expected to have a particular environmental benefit as the new targets will bring significant reductions in greenhouse gas emissions.
As they said, the agreement It also contains targeted tools to address the challenges that Cyprus will face, namely securing increased revenues through the auction of emission allowances for the shipping sector and the possibility of financing the transition of this sector and excluding the Cyprus-Greece shipping connection.
Also, allocation of rights to island states such as Cyprus for the promotion of sustainable aviation fuels and elaboration of a study for the preservation of the air connectivity of the island states.
They also referred to the special provisions for the Reward Mechanism for the use of Sustainable Aviation Fuels ("SAF Allowance Mechanism"), which, as they stressed, were included in the agreement following a proposal by Cyprus and will contribute to providing incentives for the green transition of the aviation sector. to help connect island states and isolated regions. "
In general, regarding the agreement, the two Ministers spoke of a landmark agreement, as it lays the foundations for reduce greenhouse gas emissions by at least 55% by 2030 and climate neutrality by 2050.
"After many months of intensive consultations between the EU Member States and at the level of institutions, we have before us a balanced agreement on the Council's positions, which paves the way for achieving our EU objectives in a fair, cost-effective and competitive manner." underlined that the agreement contributes to "a fair green transition of the European economy and society" and will enable the EU to fulfill its international commitments under the Paris Agreement.
The ministers added that the agreement reached focuses on reducing emissions from sectors of the economy such as road transport and buildings, shipping, air transport, heavy industry and land use, while setting construction standards for vehicles.
They also noted that in this endeavor the Member States will be supported by financial instruments such as the new Social Fund for Climate Change. as well as other funds for the development of innovation and the modernization of their energy systems.
Source: KYPE