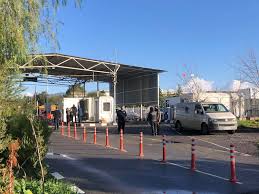 The Republic of Cyprus will give the Turkish Cypriots the appropriate vaccines in installments, from the quantities sent to us by the European Union. So this morning, 1000 vaccines were delivered to the Turkish Cypriots at the roadblock of Agios Dometios, which will be used immediately. The other 1000 will be given when the time comes to vaccinate the same people for the second dose.
This information was given this morning by the co-chair of the bi-communal health committee, Leonidas Fylaktou. As Mr. Fylaktou explained, the reason that the vaccines will be given in parts is because the other side does not have the capacity to store them at minus 70 degrees, nor is there a way to transport them preserved in the deep freezer of minus 70 degrees. According to Mr. Fylaktou, the vaccines can be stored in a normal refrigerator for up to five days once they are thawed. He said that every time we receive vaccines from Europe, the Turkish Cypriots will be given the number that can be used and over time they will be given the corresponding number for the second dose. He added that a special mechanism has been set up to be responsible for organizing the transfer of vaccines to the other side.
Regarding the final number of vaccines that will be delivered to the Turkish Cypriots from the Republic of Cyprus, Mr. Fylaktou said that this is a matter for the Ministry of Health but clarified that provision was taken to meet the needs of the occupied areas. However, the occupying regime took care to secure vaccines from Turkey as well. According to Mr. Fylaktou, his Turkish Cypriot colleagues told him in the morning during the meeting they had at the roadblock of Agios Dometios that 20,000 doses had already reached the occupied territories from Turkey. He was also told that 4,000 vaccinations had been given over the weekend.