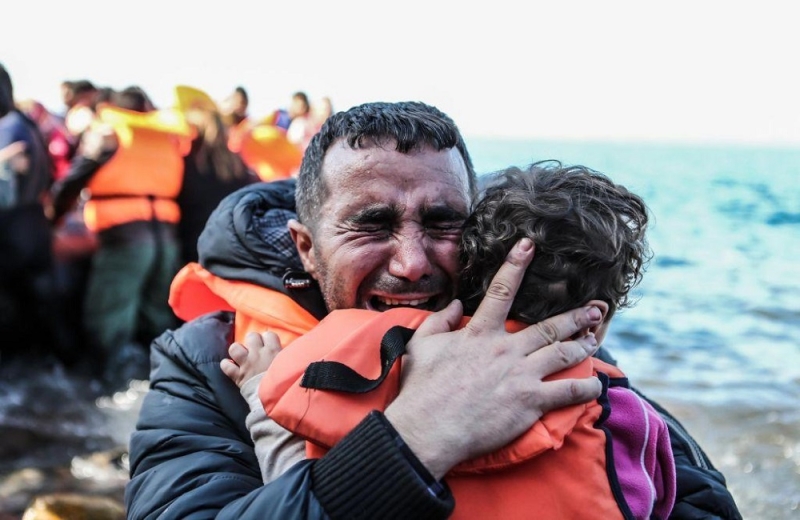 The phenomenon of global displacement is reaching new record levels, with the displaced exceeding the dramatic milestone of 100 million, according to the annual report "Global Trends" of the UN High Commissioner for Refugees, published today. The report makes special reference to Greece achieving a significant reduction in outstanding asylum applications.
By the end of 2021 the number of people displaced by war, violence, persecution and human rights violations had reached to 89.3 million, up 8% from a year earlier and at least doubled from 10 years ago.
Since then, however, Russia's invasion of Ukraine and other emergencies, from Africa to Afghanistan, have pushed the number of displaced people beyond the dramatic 100 million mark. This means that one in 78 people worldwide has been displaced.
In particular, the war in Ukraine is reported to be the fastest and one of the largest forced displacement crises since World War II. According to the report, by May 29, 2022, more than seven million Ukrainians had been internally displaced and 6.8 million refugees had fled Ukraine.
The representative of the UN High Commissioner for Refugees in Greece, Maria Clara Martin, speaks of a "shocking milestone". As he says, "Last June, the UN High Commissioner for Refugees made a sad prediction that it was only a matter of time before the number of forcibly displaced people in the world exceeded 100 million. Unfortunately, that moment has come. "
At the same time, Ms Martin explains, "the war in Ukraine has shown that international solidarity and the sharing of responsibility can only be achieved when there is cooperation between states and communities. What we need now is to see a similar response for all refugees, regardless of where they are and where they come from. "
Maria Clara Martin emphasizes that solutions are in the realm of politics and much more needs to be done "to find solutions, to resolve conflicts but also to address the root causes that are forcing people to leave their homes." Until that moment, she adds, "those who leave their homelands to save their lives must be able to seek asylum. This is a universal human right & # 8211; and it does not depend on which country or country one escapes from. "
Regarding the data of 2021, on which the report focuses, it is pointed out that the number of refugees increased to 27.1 million, while the number of asylum seekers reached 4.6 million, recording an increase of 11%. Also last year, for the 15th consecutive year, the number of people displaced within the country due to the conflict increased to 53.2 million.
Of the refugees displaced in other countries, 83% are housed in low- and middle-income countries, while 72% live in countries bordering their countries of origin. More than two-thirds come from just five countries: Syria, Venezuela, Afghanistan, South Sudan and Myanmar.
The largest number of refugees in the world is hosted by Turkey with almost 3.8 million refugees, followed by Uganda (1.5 million), Pakistan (1.5 million) and Germany (1.3 million). Colombia hosted 1.8 million Venezuelans displaced outside their country. Lebanon hosts the largest number of refugees per capita (one in eight), followed by Jordan (one in 14) and Turkey (one in 23).
In 2021, 1.4 million new applications were submitted for asylum. The United States was the world's largest recipient of new individual requests (188,900), followed by Germany (148,200), Mexico (132,700), Costa Rica (108,500) and France (90,200).
The number of asylum seekers waiting for a decision at the end of 2021 was 4.6 million, a number slightly higher than in 2020 (4.2 million). However, special mention is made of countries that have achieved a significant reduction in pending asylum applications, including Greece, where the reduction in 2021 compared to 2020 amounted to 40%.
As noted in the report, the volume and volume of displacement exceeds the solutions available to the displaced, such as return, resettlement or integration into the host society.
The displaced are often faced with a food crisis. It is estimated that 82% of internally displaced persons and 67% of refugees and asylum seekers in 2021 came from countries with food crises. At the same time in Afghanistan 55% of the population has no food on a daily basis.
In addition, the report highlights the inequality in the distribution of coronavirus vaccines. In March 2022, only 1% of doses worldwide were given to low-income countries, which means that 2.8 billion people worldwide are still waiting to get the first dose of the vaccine.
It is still positive The fact that the number of returns of refugees and internally displaced persons increased in 2021, reaching the levels of the pre-coronavirus era, with voluntary repatriation increasing by 71%, although it is clarified that the numbers as a whole remained moderate.
Finally, although the estimated number of stateless people increased slightly in 2021, approximately 81,200 people acquired or confirmed their citizenship. This is the largest reduction in statelessness since the UNHCR's campaign in 2014 began.
The report is published on the occasion of World Refugee Day on June 20. During this year's celebration, the UN High Commissioner for Refugees sends the message that everyone has the right to seek refuge, whoever they are, wherever they come from and whenever they need to be displaced.
Sources : ΑΠΕ-ΜΠΕ