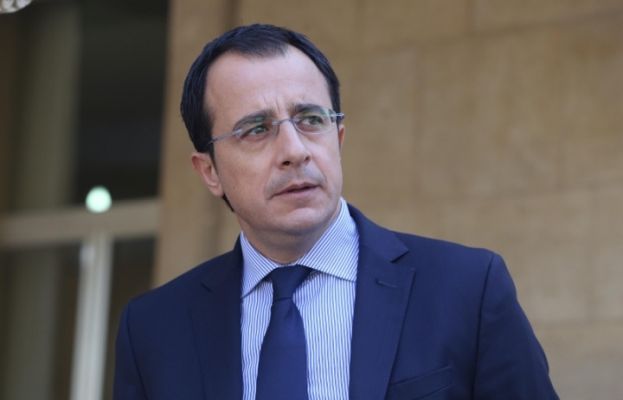 The universal negative reaction of the international community, of the five permanent members of the UN Security Council and the European Union, is found by Turkey's insistence on changing the basis of the Cyprus solution and for a two-state solution on the island, Foreign Minister Nikos Christodoulidis said today.
In statements in Larnaca, the Foreign Minister was asked whether yesterday's announcement by the Turkish Security Council, which refers, among other things, to a two-state solution in Cyprus, postpones any efforts made to resume the informal five-party conference on the Cyprus issue, taking into account the fact that there is an effort by Ms. Jane Hall Luth.
After stating that "we did not expect to hear anything different from the National Security Council of Turkey", Mr. Christodoulidis said that "of course our effort does not stop because we have these statements, these approaches from Turkey. On the contrary, our persistence, our will, is strengthened, so that conditions are created as soon as possible, for the resumption of substantive talks on the basis of the relevant United Nations Resolutions ".
He added that what he holds from "all this approach of Turkey to change the basis of a solution to the Cyprus problem is the universal negative reaction, apart from the Republic of Cyprus, and from the entire international community, the five members of the Security Council, the European Union, that such a thing is not even up for discussion ".
This, he stressed, "was also something that the US Secretary of State recently in the conversation we had was clear in relation to the specific position on the part of Turkey."
Continuing, the Foreign Minister said that "we are waiting for Ms. Lut's descent as soon as possible, to see how conditions are created for the resumption of talks."
Developments in Israel and bilateral relations
Asked whether there is concern about a possible disruption of Cyprus' good relations with Israel, due to the fact that Benjamin Netanyahu did not secure the post of Prime Minister in the country after 13 years, Mr. Christodoulidis replied that "it is not right to comment while they are internal processes are still in progress ".
As he said, "the President of Israel was informed yesterday that there is the required majority in the country's Parliament, 61 deputies, to form a government, but there is a process that ends on June 14."
We must, he continued, "wait until then. "What are the options in any country? They are absolutely respected."
He added: "Our relations with Israel have developed to such an extent that I am sure that any change of government in Israel or in Cyprus will not affect these relations, because they are based on common aspirations, common goals, common ground. challenges and how we work together to take advantage of opportunities in the region. "
He concluded, "it is our goal not only with Israel, but with all the states in the region when there is a change of government, whether in these countries or in Cyprus, for this cooperation to continue."