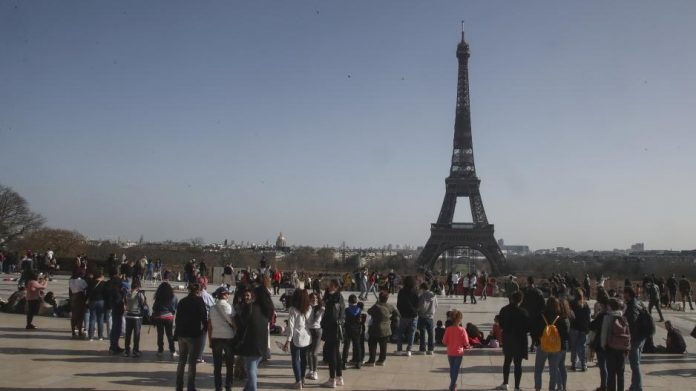 The Eiffel Tower is set to reopen today at 12:45 pm local time for visitors after being closed for nine months, the longest period since World War II.
Its elevators will be reopened to transport tourists to the top of the 300-meter tower, ending a long period of closure due to the Covid-19 pandemic.
With a limit on the maximum number of visitors allowed, the Tower will be able to receive 13,000 people per day, almost half the number of visitors than usual, in order to comply with the rules of social distancing.
From next Wednesday, in fact, visitors will need to show a vaccination certificate or a negative result in a test for covid, thus keeping up with the recent measures imposed by the government.
"Obviously it is an additional functional complication, but it is manageable," Jean-François Marten, head of the Sete management company, told AFP.
After a final round of security checks by staff, Martin announced that "the lady is ready."
And where will the visitors come from? From the 1st of June when the pre-sale of tickets started and until the end of August, 70,000 tickets have been sold, most of them for the second fortnight of July.
Online bookings allow the first trends to be observed: half of the visitors are expected to be French, Italians and Spaniards are estimated to be more than usual, only 15% of bookings are from Americans, very few bookings are made from Asia , while "almost no bookings" have been made by the British.
The closure of the Tower for many months caused chaos in the finances of Sete, which manages the monument on behalf of the Paris authorities.
The company is expected to request an additional financial subsidy from the government and a recapitalization of 60 million euros in order to survive having seen its revenues decline by 75% to 25 million euros in 2020.
The masterpiece of the architect Gustavo Eiffel has also encountered problems related to the last time it was painted, the 20th time it has been repainted after it was built in 1889.
Work was suspended in February due to high levels of lead detected at the site, which poses a risk to workers' health.
Checks are underway and painting is expected to resume in the fall, which means that part of the façade is covered with scaffolding and safety nets.
source: Alphanews.live