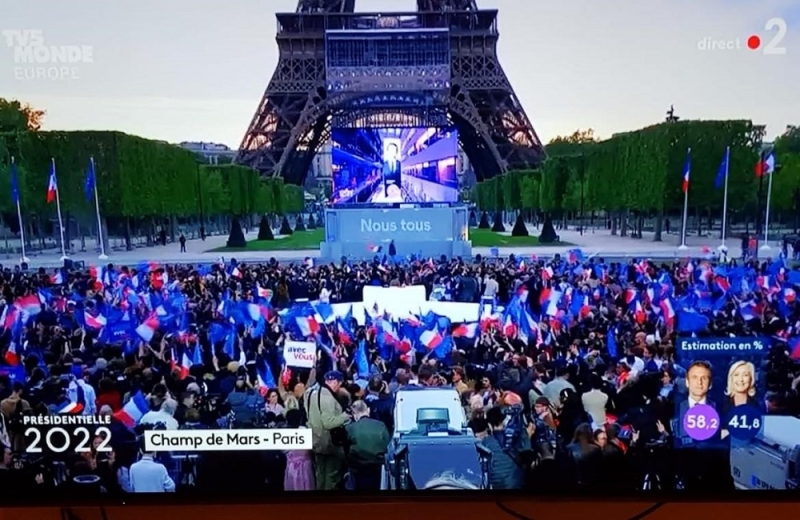 Emanuel Macron is the winner of the match with Marin Le Pen, according to the exit polls for the second round of the presidential elections in France.
According to the first official estimates , the winner of the French presidential election is Emanuel Macron with 58% against 42% of Marin Le Pen.
The participation of the French in the second round of the presidential elections appears reduced, according to the data given to the public, at 18.00 Greek time by the French Ministry of Interior. Based on these data, the turnout was 63.23%, reduced by more than two points compared to the 2017 presidential election and the first round of 2022, with the abstention estimated at 27.8-28%. This is one of the biggest abstentions in the history of the French elections.
With his re-election, the 44-year-old president becomes the first to be re-elected for a second consecutive term after 20 years. Jacques Chirac had achieved this in 2002, when he had won the second round over Le Pen's father (Jean-Marie Le Pen).
It is recalled that Macron was at the top of the first round of the French elections on April 10 with 27.84%, while Le Pen had 23.15% of the vote.
At this time, Emanuel Macron is at the Champs Elysees where he will watch the first election results and then go to the Field of Areos under the Eiffel Tower where he will address his friends in the presence of 1300 of accredited journalists.
Marine Le Pen is also expected to address her friends in the center of Paris in the presence of 500 accredited journalists.