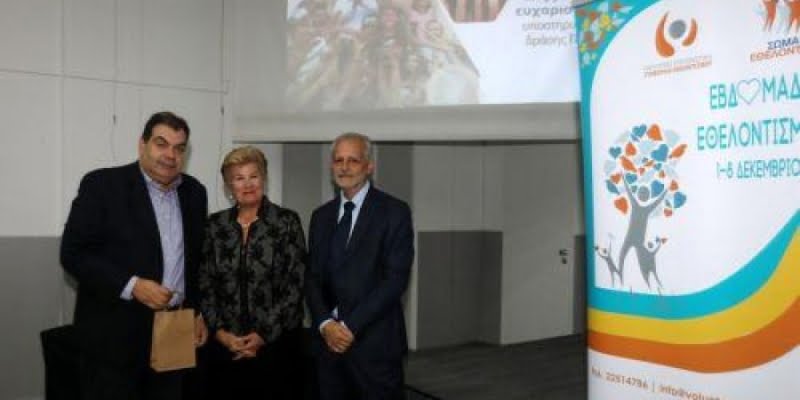 The start of the week of volunteering under the motto "Make the idea a reality", which will take place from December 1st to December 8th, was announced by the First Lady Andri Anastasiadis at today's press conference of the Pan-Cypriot Coordination Council for Volunteering (CCC), which took place in Nicosia.
In her greeting, Mrs. Anastasiadis, Honorary President of the PSSE, reiterated the government's support for the voluntary movement, noting that as part of the support, it created the Office of the Citizen's Commissioner, establishing the legislative framework to promote active citizenship and participatory governance.
Referring to the Volunteering Week, she said that through the promotion of community service activities, it shows us that the "collective well-being and quality of life is a personal matter of every conscientious citizen" and is a worthy effort that demonstrates the importance, value and content of voluntary contributions.
The President of PSSE Ilias Dimitriou, in his greeting, said that for 29 years the Volunteering Week has been held with the "purpose mobilizing the whole of society to organize voluntary actions".
Referring to the actions of PSSE, which was established in 1973, he said that they are divided into four main pillars, actions for society, actions for Non-Governmental Organizations, actions to promote volunteering and actions to develop partnerships at all levels and noted that the December 5th is the International Volunteer Day.
He also mentioned that more than 420 NGOs are the current members of PSSE and said that during the Volunteering Week more than 330 actions will be carried out while more than 20 thousand volunteers will participate in the actions.
Specifically, among the actions of the PSSE during the Volunteering Week, there will be visits to structures, collection of food and clothing, tree planting, carrying out a campaign to clean parks, etc. and charity bazaars.
< p> After the press conference, the PSSE honored the supporters of the action, including the Police, the Municipality of Strovolos, the Cyprus News Agency and other public agencies and private companies.
Source: KYPE