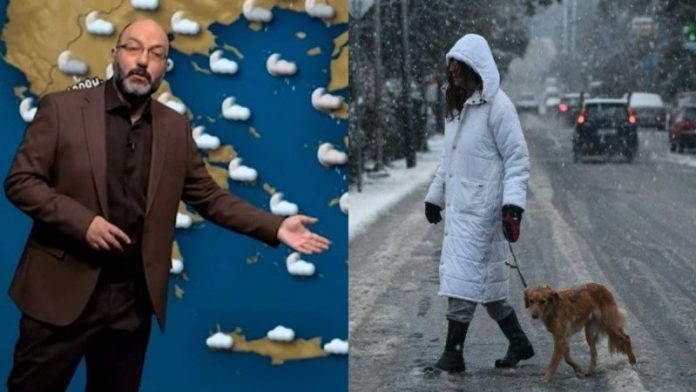 This summer had quite difficult conditions with heat, "splashing" of mercury and, unfortunately, catastrophic fires like that of Vilia. On the other hand, however, Sakis Arnaoutoglou talks about winter , predicting the weather and when it will snow.
The calendar may show August 17, but the experienced meteorologist tried to make a first general assessment of what this winter will be like and specifically how much snow will fall. As he clarifies, this is not a forecast, but an estimate based on the intensity of the El Nino phenomenon.
Specifically it says :
"Caution! It is not just a forecast and a very general estimate of the global forecast models for the coming winter (deviation from the average snowfall days for the northern hemisphere) based on the predicted intensity of the El Niίνo phenomenon in the coming months.
Red indicates that the snowfall days are likely to be less than normal and green indicates that the snowfall days are likely to be longer than normal.
"El Niιοo: the oceanic phenomenon in which the central and eastern waters of the Pacific Ocean near the equator are warmer than other areas. The water temperature is about 3 ° C higher."
What do the dates say?
Will the weather get bad or will we have a hot winter?
They usually come out after the first twelve days of August. However, the old people say that we will have a mild winter, taking into account that the big heat wave coincided with the first days of August.
So far there are forecasts for January 2022 until March 2022.
January 2022 : Rain-wind-cold and enough snow at the end of the month.
February 2022 : Rain – wind – storms.
March 2022 : Mild weather with heat for the season.
However, taking into account the heat of August, the dates are expected to give hot days from August to December.
The process is simple: we observe the weather of August for 12 days, each of which represents the weather of the following months.
That is, the 1st of August will tell us about the weather of August, the 2nd for September, the 3rd for October and so on.
They pay attention to the weather conditions of the whole twenty-four hour period. If, say, on August 5, it rains at night, then the last days of December will have bad weather.