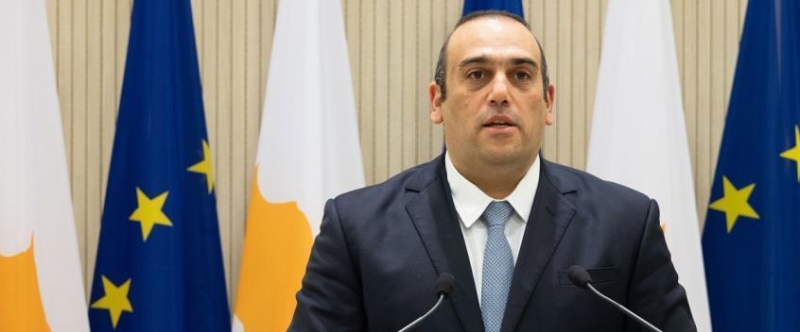 It is our duty, as a people, to keep alive the memory of our missing and never to forget, said on Thursday afternoon the Minister of Transport, Communications and Works, Yannis Karousos, who performed, with the Deputy Minister Para to the President, the unveiling of the Assias missing persons monument, in the Municipality of Ypsonas.
"We are here to honor and remember the missing Assionians", said Mr. Karousos, noting that "the monument to the Assionians in the Municipality of Ypsonas is the least sign of appreciation of all the citizens of Ypsonas for these people and their families them, who paid the heaviest price for the consequences of the tragic events of 1974".
Specifically, he continued, the monument is dedicated to five missing Asians, whose families found accommodation in the Municipality of Ypsonas in the difficult years after Turkish invasion.
They are Kostis Leontiou Kostrikkis, Dimitris Andreas Markatzis, Panai Tsiitsiu, Georgios Michail Hatjikoutsou and Antonio Christakis Hatziantonis, whose names are inscribed on the monument, which the architectural office RNA Design Studio undertook to design and supervise completely free of charge.
"It is our duty as a people to keep the memory of these people alive and to never forget", he said and indicated that "monuments like this also honor our missing persons, they also honor those who had the initiative to create them".
Mr. Karousos congratulated all those who contributed to the creation of the project, among them Deputy Minister Para to the President Petros Dimitriou, "whose intervention was decisive for the promotion of the project".
For his part, the Mayor of Ypsonas, Pantelis Georgiou, said that today the Municipality hosts more than 30 families originating from Assia and the construction of the monument was also their wish, which was unanimously adopted by the municipal council.
The monument – which is located opposite the municipal building – "will now be a point of reference and memory of the enslaved village, but at the same time of the drama that many families of our island are still experiencing for 49 years", he added.
A monument, he continued, that will eternally symbolize Ypsona's appreciation for the heroes of the war and the martyrs of the invasion and will remind the younger generations of the names of some people, who make up the long list of victims of the homeland's struggles let us.
The unveiling of the monument was preceded by a consecration by the local bishop Amathoustos Nikolaos, while an artistic program and laying of wreaths followed.
(KYPE/SK/AGK)