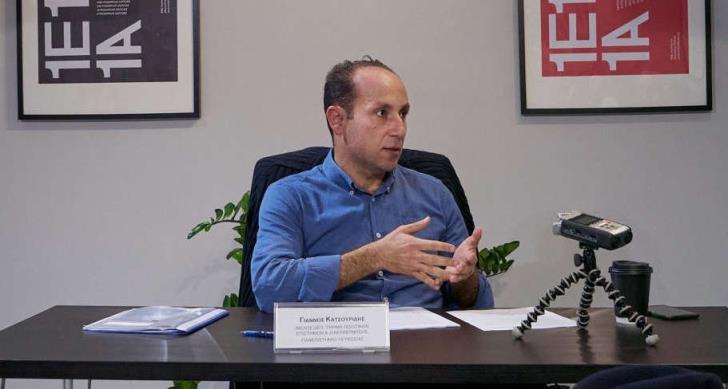 Announcement matching whatever cultivated until today, characterized the Christodoulidis announcement, speaking to ACTIVE , the assistant professor of political science Giannos Katsouridis.
"The way of announcing Christodoulidis' candidacy corresponds to the most modern way of announcing, framing and presenting, as it happens in the new trends of communication. We have seen in the USA, France and other countries, the candidate is framed by an audience that does not include celebrities, party executives, a message that is trying to convey communication. "
READ ALSO:
N. Christodoulidis announced: "This is my vision" How is the PTA positioned after the Christodoulidis announcement DISY: Supermarket of wishes and slogans Christodoulidis announcement Averoff: Christodoulidis announcement is not news
Cross-party & nbsp; profile
On the content of the proclamation, Mr. Katsouridis referred to the effort to promote a cross-party profile by & nbsp; Nikos Christodoulidis, with which he will be able to address all strata of Cypriot society, even in different ideological backgrounds.
"I believe that, in the first phase, this is what we expected from a presidential candidate, who presents a vision, which objectively was general in its wording, and will begin to be judged where it will begin to materialize. It was a content-oriented announcement, rounded up, it tried to radiate a confidence at the same time that shows perspective and dynamic victory, it tried to be multi-collectible, to address the many and different audiences. It was a vision, which at this stage corresponds to a logical strategy of candidacy for elections. "
Assurance that he does not intend to party
Giannos Katsouridis also commented on the targeted messages, as he said, "which were addressed to the party audiences, with the assurance that he does not intend to form a party, reassuring the concerns DIKO – EDEK. He expressed his gratitude to President Anastasiadis and did not deny his party background, showing that he wants to maintain his relationship with a large portion of the DISY faction. He referred to a merit-based government with people of various ideological backgrounds, which is a request of DIPA.
What remains
Giannos Katsouridis referred to the abstention, commented the " dam of fear that broke ", but also the careful reference to the Cyprus issue. It remains to be seen who will frame him, who will represent him in the television panels and to specify the program of Nikos Christodoulidis for his vision for Cyprus.