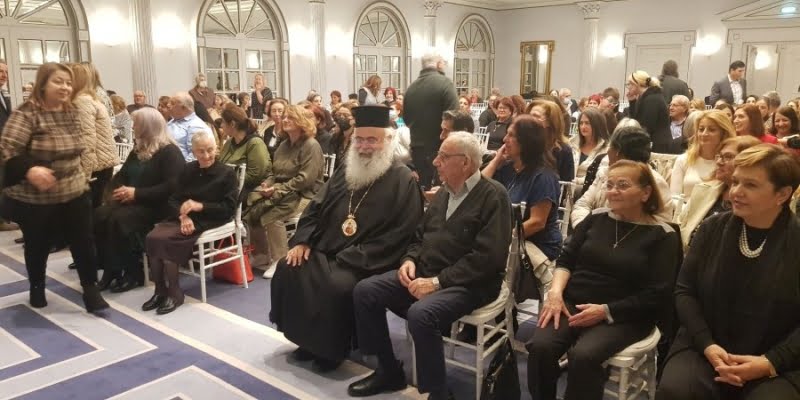 A gathering of women took place in Paphos, on Thursday night, in support of the candidacy of the Metropolitan of Paphos Georgios for the archbishopric throne.
The speaker at the gathering was the President of the Justice and Equality Movement, Secretary of the Movement for Claiming the Rights of Refugees and Sufferers and Secretary of the All-Cypriot Association of Occupied Property Owners, Eleni Kosti – Ilias, who described Paphos Georgios as a warm supporter of human rights, justice, equality, equity and egalitarianism.
According to Mrs. Kostis, the Metropolitan of Paphos is a "ardent patriot and priest", that he stands out "for his principles, values, positions, mercy and faith in matters of religion and homeland".
He made special reference to the appeal that the Metropolitan had made against Turkey to the Human Rights Committee of the Council of Europe and to the events of Agios Kassianos in July 1989 and the consequent "arrest" and acts of violence against the then archimandrite and now Metropolitan of Paphos Georgios by the Turks, the 12-day hunger strike he went on until they let him go, beaten and bloody.
The Human Rights Committee of the Council of Europe, after examining his appeal, ruled on the merits of the case and through the ' number 507/3.2.94 of its decision and condemned Turkey for the first time for violating human rights in Cyprus.
The Church of Cyprus, said Mrs. Kosti, has always been a pioneer in the struggles of the Nation, such as Archbishop Cyprian, Archbishop Leontius and Makarios II. "It is for these reasons that we consider him worthy and capable of taking over as Archbishop of the Church of Cyprus", he added.
In addition, the speaker mentioned that the Metropolitan of Paphos was taught principles and values ​​by childhood in his family, recounting an incident related to his father hiding weapons of EOKA fighters and his subsequent teachings to the young then and later Metropolitan of Paphos.
Read also: He denies the withdrawal of the Metropolitan of Kyrenia