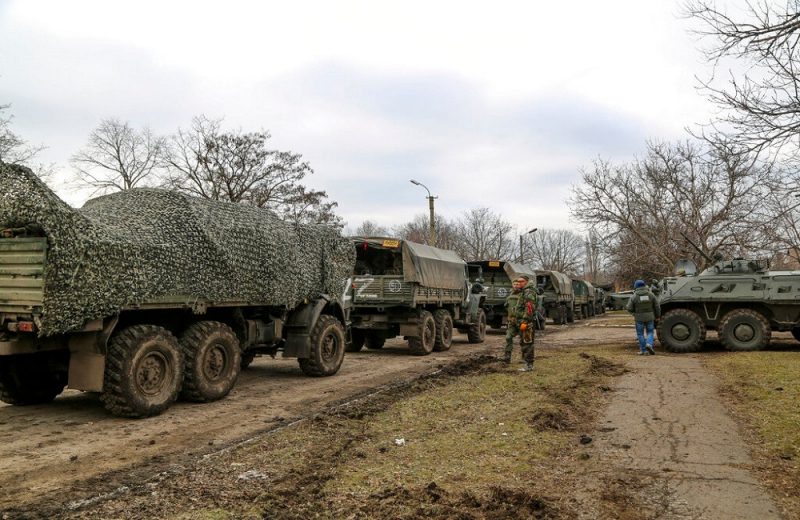 Russian President Vladimir Putin has launched a "cold war of aggression" against Ukraine, says German Ambassador to Cyprus Anke Slim, who speaks of a new reality that requires a clear answer.
"Everything that is needed to ensure peace in Europe will be done. "Germany will contribute to these efforts in a spirit of solidarity," the ambassador said in an interview with the Cyprus News Agency, while expressing Berlin's full solidarity with Ukraine.
He also notes that the Russian attack on Ukraine is a violation of the most fundamental rules of the international order. "No country in the world can accept that the sovereignty of another state is called into question simply because it is decided by its strongest neighbor," said Ms Slim. In Kyiv, the ambassador reiterated the words of German Chancellor Olaf Soltz, who addressed the Federal Parliament last Sunday, saying "no other answer could be given to Putin's aggression."
"February 24, 2022 is a milestone in the history of our continent. With the invasion of Ukraine, Russian President Putin launched a cold war of aggression. For one reason only: the freedom of the Ukrainian people challenges its own oppressive regime. "There is nothing and no one who can justify this," he said. same as before.
For Ms. Slim, Russia has decided to follow this path on its own. "In recent months, the EU has been trying to find a peaceful solution to this crisis through diplomacy. Russia has ignored many attempts to make progress through diplomacy, including through the Normandy format under the Minsk Accords. "It has not kept its word to our leaders, nor its written commitments enshrined in the Minsk Agreements," he said.
Asked about the consequences of the crisis, the ambassador noted Putin's references to "indivisible security" and said that what the Russian president was really seeking now was to "divide the continent into the known old spheres of influence through the use of force." >
This, he notes, has implications for security in Europe. "In the long run, security in Europe cannot be achieved in a confrontation with Russia. "But in the near future, Putin is endangering that security.""President Putin has created a new reality, which requires a clear response, which we have given," said Ms. Slim. "As you know, Germany has decided to supply Ukraine with weapons for the country's defense. No other answer could be given to Putin's aggression, "he added.
An additional challenge, according to the ambassador, is to prevent Mr Putin's war from spreading to other European countries. "This means that we will unconditionally abide by our commitment to collective defense within NATO," he said, urging President Putin not to underestimate "our determination to defend NATO territory with our allies." "When we welcome a country into NATO, we are committed to defending that country as a partner and ally, just as we would be defending ourselves." , among others, Russian banks and oligarchs, but also President Putin and people close to him. Asked about the impact on member states with ties to Russia, she said the situation would affect the whole of Europe, including Germany and Cyprus.
"Sanctions against Russia, rising prices and falling stock markets will have an impact on all European countries, including Germany and Cyprus. We did not seek this situation. However, we can not avoid it. "Therefore, we take our responsibilities to the fullest," he said.
For Ambassador Slim, this is both a challenge and an opportunity. The challenge is to strengthen the European Union's sovereignty in a sustainable and lasting way, he explains. The opportunity, he continues, is to maintain the united front we have shown in recent days with the agreement on the sanctions package.
"For Germany and for all EU Member States, this means that we are not just wondering what can we gain in Brussels for the benefit of our country, but that we wonder about 'what is the best decision for our Union'. "Europe is our framework for action," he said.
With regard to the consequences in the energy sector, the Ambassador reaffirms Germany's readiness to take all necessary measures with its allies.
"During the last week, together with our partners internationally, we have prepared a package of extensive and targeted sanctions. The German government has also frozen Nord Stream 2, as we have always said that Nord Stream 2 is on the table. We are ready to pay that price and Russia must feel the consequences. "We have a very clear agreement with the United States Government on gas transportation and energy sovereignty in Europe," said Ms. Slim. Germany's energy supply and says its country "will change course to eliminate dependence on imports from individual energy suppliers".
"Ultimately, the events of recent days and weeks have shown us that responsible and forward-looking energy policy is not only critical to our economy and climate, but also to our security," he said. The faster progress is made with renewable energy, the better.
For the German Ambassador, there should be no illusions that Mr Putin will change course overnight. "The Russian leadership will soon see how high a price it will pay. In the last week alone, Russian stocks have lost more than 30% of their value. "This shows that our sanctions are working and we have not ruled out further sanctions – nothing is off the table," he said. the United States, the United Kingdom, Canada and Norway, but also South Korea, Japan and Australia. "Our unity is our strength. We stand by Ukraine and all Ukrainians ", the Ambassador concludes.